Democrats Face Economic Gut-Check After GOP Taps Voter Angst
(Bloomberg) -- Democrats will argue for months about what led to their defeat at the ballot box on Tuesday -- whether it was their messaging, their candidates or their president. But there was consensus that the first step is to get something done on economic issues.
One day after an embarrassing loss in the Virginia gubernatorial election and a dispiritingly tight race in New Jersey, Democrats from President Joe Biden to moderate and progressive members of Congress cast passage of his infrastructure and $1.75 trillion social spending package as a panacea for further losses. 
For months, the centerpiece of Biden's legislative agenda has been stalled because of infighting among congressional Democrats. But party activists and strategists say that Democrats have to take action on so-called bread-and-butter issues, like inflation and education if they don't want a repeat of Tuesday's results in next year's midterm elections.
Democrat Terry McAuliffe lost the Virginia governor's race to Republican Glenn Youngkin. In New Jersey, Governor Phil Murphy, a Democrat, defeated his Republican opponent, Jack Ciattarelli, in an unexpected squeaker.  
"If things don't change, then 2022 is going to be a very, very difficult election for Democrats," said Jeff Horwitt, a Democratic pollster. "The good news is, there's a year to change how voters view their own personal situation."
Biden, speaking at the White House on Wednesday after returning from summits in Europe, said passage of his bills would ease Democratic voters' anxiety and help them coalesce around Democratic candidates in the 2022 midterms, which will decide control of both houses of Congress.
"People are upset and uncertain about a lot of things, from Covid, to school, to jobs, to a whole range of things -- and the cost of a gallon of gasoline. And so if I'm able to pass, sign into law, my Build Back Better initiative, I'm in a position where you're going to see a lot of those things ameliorated, quickly and swiftly. So that has to be done," Biden said.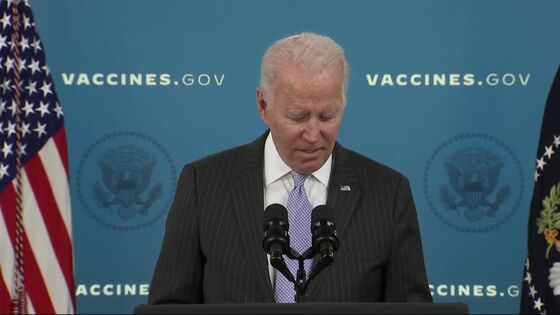 McAuliffe, a former governor and chair of the Democratic National Committee, lost to Youngkin, a former co-chief executive officer of the Carlyle Group Inc., in Virginia, a state Biden won by 10 points just a year ago. He took New Jersey by 16 points. 
Guy Cecil, chairman of Priorities USA, a liberal Super political action committee, said Democrats must immediately pass the infrastructure and social-spending bills to give voters something to rally around.
"This election is a warning for all Democrats," Cecil said in a statement. "While D.C. Democrats spent weeks fighting each other, Republicans were focused on mobilizing their base and peeling away voters from the Biden coalition."
The moderate Democratic group Third Way offered the same message.
"The months of in-fighting and sausage-making must come to an end," the organization's executive vice president Matt Bennett said in a statement. "We must pass these two historic bills and then explain what they will do to create jobs, cut taxes, and help working families afford the essentials."
Following Tuesday's results, the National Republican Campaign Committee added 13 House Democrats to the list of 57 it was targeting for defeat in the midterm elections as the GOP seeks to erase Democrats' five-seat margin in the House and control of the 50-50 Senate with Vice President Kamala Harris's vote.
And Republican leaders seized on the losses as proof Americans weren't buying their policies.
"Democrats should listen to the voters. Drop this reckless taxing and spending spree. And stop trying to ram through a socialist transformation that the American people never asked for," Senate Minority Leader Mitch McConnell said Wednesday. 
If forecasters are right, economic conditions will be notably brighter by the time of the next election. Last quarter's annualized growth rate of 2% will have proved the low-water mark for some time to come, with the recovery seen picking up steam. The expansion rate is projected at at least 4% through the first half of 2022, according to Bloomberg surveys.
Inflation is also expected to moderate, while the job market is forecast to keep strengthening. By the end of 2022, consumer prices will only be rising 2.4%, less than half the pace of last quarter, Bloomberg surveys show. And the unemployment rate will drop below 4% as payrolls keep expanding, economists expect.
Biden's approval rating has been plummeting -- especially among independents -- based on concerns about inflation, exacerbated by supply-chain problems from the coronavirus pandemic and failure to enact his economic agenda, in addition to other priorities, like voting rights and police reform. 
But Democrats have also insufficiently communicated their accomplishments to voters, Representative Gerry Connolly, a Virginia Democrat, said in an interview Tuesday.  
"Democrats failed at messaging. We allowed the Republicans to frame the issues of this election in Virginia. And we at the federal level, stopped talking about the fact that we passed a $1.9 trillion Covid relief bill earlier this year. We allowed the narrative to say that we're not getting anything done," Connolly said. 
In Virginia, Youngkin and Republicans interspersed culture-war issues such as critical race theory in education, with grocery taxes and law-enforcement funding, among other topics. 
"I do not see this as a win for the Republicans," GOP pollster and strategist Frank Luntz said of Tuesday's election results on Bloomberg Television's "Balance of Power with David Westin" on Wednesday. "I see this as a loss for the Democrats."
McAuliffe's proposals were generally good kitchen-table issues, but he didn't talk about them or his own successes as governor enough, said Karundi Williams, who leads a progressive candidate training group Re:power.
Democratic strategist Josh Schwerin said that Murphy's struggles in New Jersey showed that it wasn't necessarily the candidates or the issues, but the national political environment.
To counter that in 2022, Schwerin also said Democrats must address some of the broader problems upsetting voters by reducing coronavirus infections, fighting inflation and passing concrete proposals like paid family leave that they can cite when campaigning.
"The pieces of this legislation are very popular and will have a direct impact on the lives of millions of Americans," he said. "We need them to feel that and know that it was us that did it."
Congressional Democrats are already heeding that advice. After scaling back the $1.75 trillion domestic spending package by eliminating popular items such as paid family and medical leave, House Democrats said Wednesday that paid leave was being added back in the bill.
"We have to just produce results for them to change their standard of living and give them a little more breathing room," Biden said Wednesday. "People want us to get things done."