Democrats Eye Secret Midterm Weapon - Trump: Balance of Power
Democrats agonizing over whether Hispanics will turn out two weeks from now or crush their dreams of taking control of the U.S. Congress are hoping for a last-minute assist from an unlikely source: President Donald Trump.

Trump conceded yesterday that there's no evidence for his claim that Middle Eastern terrorists are among thousands of migrants traveling from Honduras toward the U.S. border, but blamed Venezuela and unidentified "leftists" for encouraging them.

The assertion is the president's latest attempt to fire up his base with a hard-line migration stance ahead of the Nov. 6 midterms.

At a rally in Texas on Monday, he accused Democrats — also without evidence — of encouraging illegal voting by non-citizens, after announcing aid cuts to three Central American countries that he said aren't doing enough to stop the "caravan."

Democrats hope Trump's moves will backfire. While Latinos largely stayed home in the 2014, 2010 and 2006 midterms, an NBC/Wall Street Journal poll on Sunday found 71 percent of them registered high interest in this year's contests, up from 49 percent in mid-September.
For the party to win, said Democratic pollster Celinda Lake, support at the ballot box from Latinos — along with millennials — is "absolutely pivotal."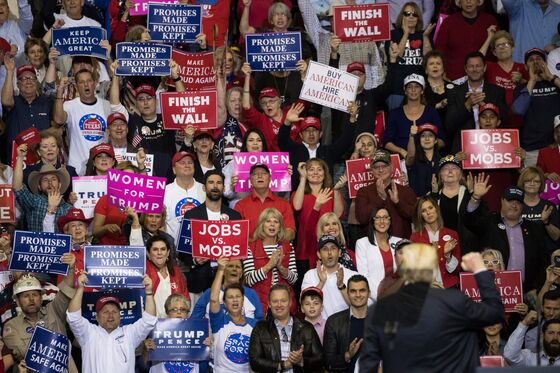 Khashoggi's shadow | Political pressure is building on Saudi Arabia's Crown Prince Mohammed bin Salman over the Oct. 2 murder of journalist Jamal Khashoggi, with a senior Turkish official saying he has "blood on his hands." The de facto Saudi ruler is preparing to speak today at a scaled-down investment conference in Riyadh, after Trump delivered his strongest criticism yet of the kingdom, calling its conflicting accounts of the killing of the Washington Post columnist "one of the worst" cover-ups in history. Read more: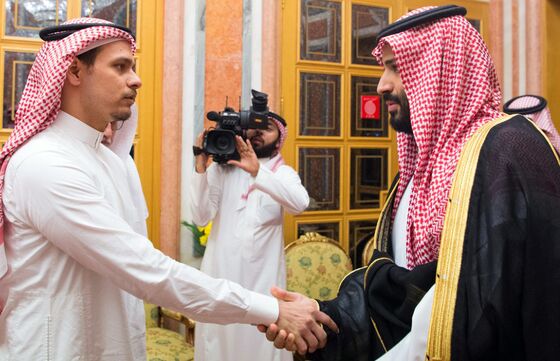 China meddling? | Trump's claims that China is trying to interfere in the midterm elections are facing a problem: evidence. As Alyza Sebenius reports, while Facebook Inc. and Twitter Inc. have reported online disinformation campaigns that appear to emanate from Russia and Iran, they're the latest tech companies that haven't detected any digital efforts by the Chinese.
Trade scapegoat | Trump sought to pressure Beijing to open its markets by undermining its economy. Instead, he may be providing Chinese counterpart Xi Jinping with the perfect cover story if things get worse, Bloomberg News reports. While the Trump administration has confirmed that the two leaders plan to meet at the G-20 in Argentina next month, officials from both sides are already lowering expectations for a breakthrough.
History of bailouts | Saudi Arabia has agreed to a $6 billion support package to bolster Pakistan's dwindling finances following a second visit by Prime Minister Imran Khan seeking aid. Although the government announced earlier it would ask for International Monetary Fund assistance, Khan says he's reluctant to turn to the fund for Pakistan's 13th bailout since the late 1980s.
- U.K. Prime Minister Theresa May faces yet another bruising showdown with her own Conservative Party over Brexit today, where she'll be challenged to justify her plan to keep Britain tied to European Union rules for far longer than Tory euroskeptics want.
- Shinzo Abe and Xi are due to meet in Beijing on Friday as part of the first bilateral visit by Japan's leader to China in seven years. It's a sign of warming of ties between the two nations, which accelerated after they were drawn into Trump's trade war.
- With Trump set to campaign today in neighboring Wisconsin, Arit John takes a closer look at four Minnesota House races that both parties view as midterm bellwethers.
And finally… In 2016, he popularized the now-iconic red "Make America Great Again" baseball cap as he barnstormed the country with promises of re-setting the U.S.-China trade imbalance. Now baseball caps are poised to be the latest quintessentially American item that's set to increase in price because of Trump's trade war with Beijing. Many fans of the sport could soon be paying as much as 25 percent more for their favorite team's hats, Shawn Donnan writes.