Democratic Jabs Turn Personal Ahead of New Hampshire Vote
(Bloomberg) -- The Democratic presidential candidates turned their fire on each other ahead of Tuesday's New Hampshire primary, abandoning a yearlong nonaggression pact as some candidates face defeats that could challenge their ability to go on.
Joe Biden called Pete Buttigieg unqualified to be president as a small-city mayor. Buttigieg fired back that Biden is stuck in an old-fashioned Washington mindset. Bernie Sanders said he would hammer at Buttigieg's billionaire donor list. And Elizabeth Warren said she didn't want to participate in the fight, then criticized Biden's consultant-driven campaign and Buttigieg's big-donor strategy.
The change in tone signaled just how important Tuesday's results could be as Iowa's delayed split decision gave the lead to Buttigieg and Sanders but failed to produce a clear front-runner. On Sunday, the Iowa Democratic Party appeared to have sealed Buttigieg's victory by awarding him another delegate, giving him 14 to Sanders' 12.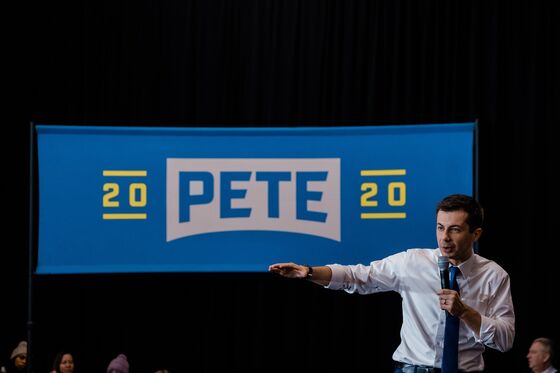 Iowa's jumbled results also did serious damage to Warren and especially Biden, the once-presumed front-runner who came in fourth in Iowa.
He lashed out with a savage ad that compared his work on the Iran nuclear deal to Buttigieg's installing "decorative" lights and brick sidewalks as mayor of South Bend, Indiana.
Up until now, the Democrats had shied away from attacking each other directly, with rare exceptions like Kamala Harris' attacks on Biden's record on busing in an early debate. Harris's campaign had an early bump from the attack but then steadily dwindled and she left the race. Some Democrats fear a repeat of 2016, when Sanders and Hillary Clinton bashed each other for months, an elongated primary that sapped Clinton's finances and that some believe contributed to her defeat by Donald Trump.
The rancor started at Friday night's debate, when the field ganged up on Sanders for being unelectable and Buttigieg for being unqualified.
The candidates rumbled through the weekend, battling to distinguish themselves before a New Hampshire Democratic electorate who the state party chairman, Ray Buckley, said was committed to defeating Trump but believed any of the candidates would do.
That lack of passion for any one of the candidates could result in relatively low turnout, like in Iowa, that gives no contender a clear win.
And from New Hampshire, the field will make a mad dash around the country, facing contests in Nevada on Feb. 22, South Carolina on Feb. 29 and in 14 states and territories, including delegate-rich California and Texas, just four days later on March 3.
Other candidates are trying to squeeze into the wedge the sharp words are driving between the top candidates, including Senator Amy Klobuchar and Michael Bloomberg, who isn't competing in the early states, instead dumping more than $300 million on television ads around the country.
(Bloomberg is the founder and majority owner of Bloomberg LP, the parent company of Bloomberg News.)
Klobuchar is enjoying a rise in polls two days before the primary, now standing in third place in two tracking polls released Sunday night. In those polls by Emerson College for 7 News and by Suffolk University for the Boston Globe and WBZ, Sanders held a healthy lead with Buttigieg in second place. Warren and Biden were statistically tied for fourth in the polls conducted Saturday and Sunday of New Hampshire Democratic and independent voters.
The candidates filled the airwaves Sunday and the campaign stops in New Hampshire with slams on each other.
Sanders said on CBS Sunday that he would spend the last few days of the New Hampshire campaign hammering at Buttigieg's contributions from wealthy donors.
"At last count he has about 40 billionaires who are contributing to his campaign," the Vermont senator said on CBS's "Face the Nation."
"It matters enormously. That is precisely the problem with American politics."
Buttigieg, who currently has no job besides running for president, countered on CNN Sunday that "Bernie's pretty rich, and I would happily accept a contribution from him."
Biden took umbrage on Saturday to comparisons between Buttigieg and former President Barack Obama.
"Oh, come on, man. This guy's not a Barack Obama," Biden snapped at a reporter who asked about comparisons between the ascendant, young former mayor and the popular former president.
Buttigieg fired back again, saying Biden is a Washington insider out of touch with middle America.
"Americans in small rural towns in industrial communities and in pockets of our country's biggest cities are tired of being reduced to a punchline by Washington politicians," Buttigieg said at a Democratic dinner in Manchester on Saturday.
Biden stepped back a bit by Sunday, highlighting his own accomplishments and coat-tails for other Democrats -- and hinted that Buttigieg would make a suitable running mate were he to win the nomination.
"There are at least four people running that are simpatico with where I am, starting with Indiana and other places," Biden said, rejecting the notion that he would pick a vice presidential candidate who supported Medicare For All -- meaning Sanders and Warren wouldn't be working in a Biden administration.
Klobuchar refused to engage -- making her attractive to voters who are irritated by the bickering, but generating far less attention.
"We have so much extremes going on in our country and how people look at each other. If you are tired of the extremes in our politics and the noise and the nonsense, you have a home with me," she said in Manchester on Sunday.