Democrat Warns of Vote Against Budget Bill Without Immigration
(Bloomberg) -- A House Democratic lawmaker warned that he would decline to vote for the legislative package in which party leaders plan to incorporate much of President Joe Biden's longer-term economic proposals if the legislation doesn't include immigration reforms.
House Speaker Nancy Pelosi can only afford to lose a handful of votes from her caucus and still pass a bill if Republicans are united against it, underscoring the potential complication from Tuesday's comments from Representative Jesus Garcia of Illinois.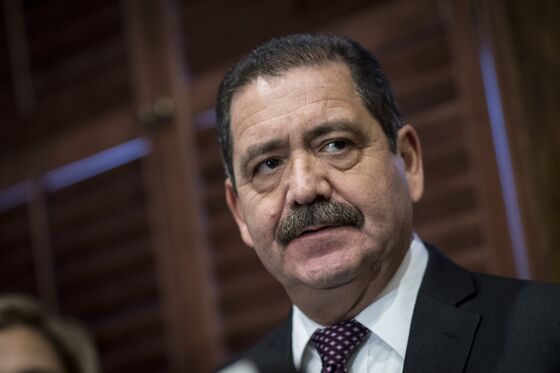 Garcia said he would not support a budget reconciliation package if it fails to include provisions to grant a pathway to citizenship for a large subset of undocumented immigrants.
"We cannot wait any longer to fix our immigration system and we need to use any opportunity available to do so," Garcia said in a statement Tuesday. "This would potentially be the first meaningful legislative action on this matter in 35 years."
The Hill earlier reported Garcia's warning.
Other Democrats have pressed their own issues, including some from high-tax states pushing for an expansion for state and local tax deductions on federal returns.
Not all legislation can be wrapped into budget reconciliation bills, which allow for a simple majority vote in the Senate -- bypassing the need for support from the 50 Republican members in that chamber. Garcia didn't spell out how he thought immigration measures could be included in what's designed to be a fiscal package.
Garcia wants a citizenship pathway for beneficiaries of the Deferred Action for Childhood Arrivals, or DACA, program and the Temporary Protected Status program, as well as farmworkers and undocumented immigrants deemed essential workers during the coronavirus pandemic.
Other lawmakers who have asked for immigration reforms to be included -- without as yet declaring them a red line for their votes -- in the reconciliation package include Congressional Progressive Caucus Chairwoman Pramila Jayapal of Washington State and Representative Joaquin Castro of Texas.