Democrat Rouda Ousts Rohrabacher in California House Race
(Bloomberg) -- Democrat Harley Rouda has unseated Republican Dana Rohrabacher from a southern California congressional seat he's held for 30 years in one of the most solidly red parts of the country, according to Associated Press projections.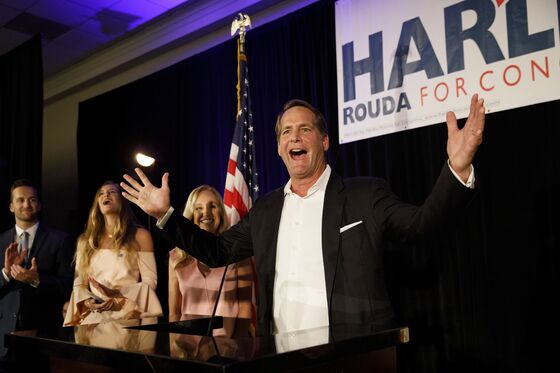 Rouda, a real-estate investor, is a former Republican who told the Los Angeles Times he left the party in 1997 because of "the weaponization of politics" by then-House Speaker Newt Gingrich. Rohrabacher has been an outspoken supporter of President Donald Trump and Congress's biggest defender of Russian President Vladimir Putin. California's 48th district in Orange County has been conservative, but it backed Hillary Clinton 48 percent to 46 percent in the 2016 election.
AP called the race for Rouda, saying the vote count late Saturday showed him ahead of Republican opponent Rohrabacher with about 8,500 more votes.
Rohrabacher was first elected in 1988 while running as a supporter of President Ronald Reagan.