Amy McGrath Wins Kentucky Democratic Primary to Take On McConnell
(Bloomberg) -- Former Marine fighter pilot Amy McGrath fended off a late surge by a progressive state legislator to win the Kentucky Democratic primary contest and become the challenger to Senate Majority Leader Mitch McConnell in November.
McGrath had the backing of party leaders and a massive fundraising advantage, but State Representative Charles Booker, a Black progressive, capitalized on momentum from the protests following the killings of Breonna Taylor in Louisville and George Floyd in Minneapolis at the hands of police to close in late in the race.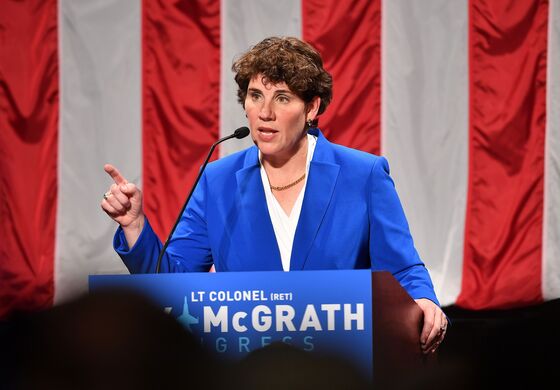 McGrath, who is White, was declared the winner by the Associated Press a week after the June 23 primary as state election officials counted thousands of ballots sent by mail as the coronavirus pandemic made voters wary of going to polling places in person.
McGrath defeated Booker 45% to 43% of the votes with 91% of precincts reported. She will have an uphill battle to try and unseat McConnell, who is seeking a seventh term.
McGrath, who ran unsuccessfully for a U.S. House seat in 2018, had raised $41 million from donors eager to defeat the Republican Senate leader, compared with only $800,000 for Booker by June 3, according to Federal Election Commission reports.
She campaigned as a moderate Democrat who would be able to work with Republicans and President Donald Trump, who trounced Hillary Clinton in the state in 2016. But she had some stumbles, initially saying she probably would have voted to confirm Brett Kavanaugh to the U.S. Supreme Court, then backing off within hours and saying she would have voted no.
Booker won endorsements from progressive Democratic Senator Elizabeth Warren of Massachusetts and Representative Alexandria Ocasio-Cortez of New York, and independent Senator Bernie Sanders of Vermont. He supports progressive proposals such as Medicare for All and a Green New Deal — ideas McConnell has repeatedly mocked.