Stacey Abrams Opts Against Senate Run, Despite Schumer's Push
(Bloomberg) -- Georgia Democrat Stacey Abrams, who rose to prominence in her party by narrowly losing an acrimonious race for governor in which she claimed voter suppression, said she won't seek a Senate seat in 2020.
"The fights to be waged require a deep commitment to the job, and I do not see the U.S. Senate as the best role for me in this battle for our nation's future," Abrams said Tuesday in a video posted to Twitter. "While I still don't know exactly what's next for me, here's what I do know: democracy in America is under attack. Voter suppression is rampant and it is real."
CNN, citing an unidentified official, reported Abrams met with Senate Democratic leader Chuck Schumer on Monday to inform him of her plans.
"I am so grateful for all of the support and encouragement I've received from fellow Georgians to leaders of congress and beyond," Abrams said in the video.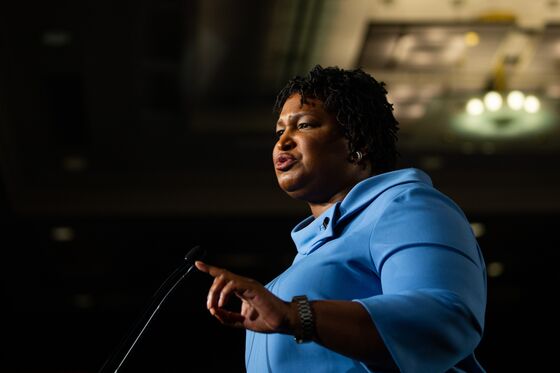 Abrams, 45, lost a close race in November that would have made her the first black female governor in U.S. history, and has since been courted by top Democrats to consider a Senate bid.
A former Democratic leader of the Georgia state House, Abrams this year became the first black woman to deliver the rebuttal to President Donald Trump's State of the Union. She called for a unity of purpose to restore the promise of "opportunity for all," adding that "we are coming for America, for a better America."
Abrams has taken on a prominent role for her party, which is counting on female and minority voters to help win the White House and Senate in 2020. Democratic leaders in Congress chose Abrams to respond to Trump at a time when the party is gaining ground in Republican-dominated states in the South.
She and her allies have alleged that her 2 percentage-point loss to Republican Governor Brian Kemp -- who refused to relinquish his position as the state's top election official during the campaign -- was marred by voter suppression tactics, a complaint also made by Democrats in other GOP-run states. Abrams said voting rights will be another battlefront in 2020, and she intends to play a leading role in that fight.
Schumer and Democratic Senatorial Campaign Committee Chairwoman Catherine Cortez Masto of Nevada had been touting Abrams as a potential 2020 challenger to Republican Senator David Perdue of Georgia, a Trump ally. Abrams said in December that she planned to run for office again after her narrow loss in the governor's race but hadn't settled on which position she would seek.