Defiant Salvini Vows to Save EU, Attacks Brussels Bureaucracy
(Bloomberg) -- Italy's Deputy Prime Minister Matteo Salvini vowed to save the European Union from the "verge" of destruction, even as the bloc's executive arm has been treating Italians like "carpet salesmen."
In a sweeping interview with Politico on Monday, the firebrand leader defended his government's record, citing successes in areas including illegal migration and organized crime, while reassuring that Italy remains a financial "powerhouse" with a sound banking system. He said gloomy forecasts have been wrong in the past, while denying that his government seeks to destroy the EU.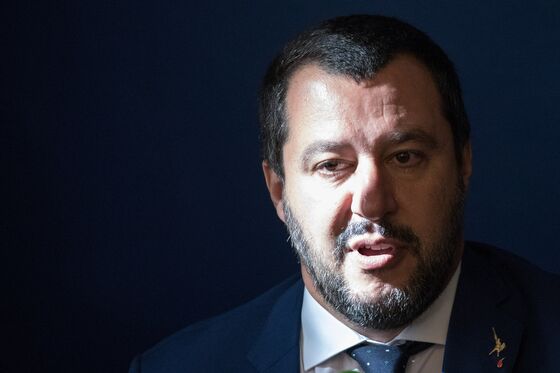 "I believe in Europe. It was a fantastic dream that's on the verge of being destroyed and we will give a contribution to save Europe," the chief of the League party said. "The government doesn't want any conflict, we want to talk."
Salvini's comments came as euro-area finance ministers meeting in Brussels backed an assessment by the EU Commission that the Italian government's proposed budget for next year puts the country squarely in breach of the bloc's rules. The spat over fiscal prudence has pushed yields on Italian notes higher, while the ensuing uncertainty has contributed to pushing the country's economy back into contraction in the past quarter.
"The commission treats Italians like carpet salesmen, that's one label we were given," Salvini said. "But again, we have no interest in a collision."
In a sign that the government has no intention of retracting its election campaign promises, Salvini said that it's "unfair" for people to work until the age of 67, thus defending a rollback of a landmark social security reform. He also declined to firmly promise a lower budget deficit for next year.
Instead, Salvini took on mainstream leaders, including embattled French President Emmanuel Macron. "Macron isn't a problem for me. Macron is a problem for the French people."