Defiant Theresa May Won't Call Early Election or Cave to Tory Brexiteers
(Bloomberg) -- Theresa May ruled out a return to the ballot box to settle the U.K.'s political stalemate over Brexit and hunkered down on her plans for leaving the European Union.
"It would not be in the national interest to have an election" before the scheduled Brexit date in March 2019, the prime minister told reporters Tuesday en route to New York. She called a snap election in June 2017 -- evoking Brexit -- in a political miscalculation that wiped out her Conservative majority.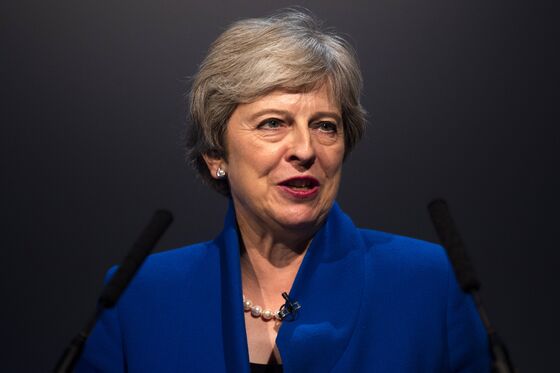 In a challenge to Brexit hardliners, she insisted that leaving the bloc without a deal was preferable to the Canada-style free-trade agreement, which they favor as it would unequivocally put the country outside customs union and single market.
The idea of an early election caught fire after the Sunday Times said some of May's aides had war-gamed a vote for November as a way of breaking the Parliament deadlock.
Though it was swiftly rejected by her office, rumors have persisted over what would be a major gamble; potentially bringing rebel Tory lawmakers into line, but giving the Labour Party what it wants most -- a shot at power. Jeremy Corbyn has been campaigning as the "government-in-waiting' ever since the last election.
May's unequivocal tone comes as pressure builds ahead of the annual gathering of Conservatives, an occasion for her enemies to come out. She's sticking to her proposal to keep close trade ties with the EU after Brexit -- and on Monday her Cabinet did not raise visible objections.
The so-called Brexiteers have urged her to take the EU up on its offer of a more limited trade deal based on the one Canada has. Their informal leader, Boris Johnson, is likely to make a plea directly to the grassroots in Birmingham, where Tories will gather from Sunday,
May said that type of relationship with the bloc is a non-starter because it would require Northern Ireland to be split off from the rest of the U.K. She said she'd prefer the U.K. to leave the EU with no deal at all rather than accept those terms.
"I've always said no deal is better than a bad deal,'' May said. "A bad deal would be a deal that broke up the United Kingdom. We want to maintain the unity of the United Kingdom.''
May is instead trying to find a way to take the whole U.K. out of the EU's single market and customs union, while avoiding both a border between Northern Ireland and Ireland or one between Northern Ireland and the rest of the U.K.
The premier said her government is "taking steps'' to address EU concerns about her Irish border plan, and will bring forward a new proposal. She said she welcomed a more emollient tone from European President Donald Tusk on Friday evening.
She rejected the argument put forward by Brexit purists that adopting a common rulebook with the EU would stop Britain striking new trade deals. "If having those EU regulations stopped good trade deals, how come the EU has done traded deals with countries around the rest of the world?'' she asked.
May insisted she could get a deal with the EU, and get it past lawmakers. "At that point, members of Parliament will have a clear choice,'' she said. "They'll have to recognize that what we're doing is delivering on the referendum.''
She also lambasted Labour's intention to vote against her Brexit deal.
"They will oppose any deal I bring back, regardless of how good it is for the U.K., and they will accept any deal Europe gives, regardless of how bad it is for the U.K.," May said. "That's not in the national interest.'"
On Wednesday, May will emphasize the difference between her own Tories and the opposition. In a speech to the Bloomberg Global Business Forum, she'll repeat a promise to keep corporation tax rates down after Britain has left the EU.
"'Whatever your business, investing in a post-Brexit Britain will give you the lowest rate of corporation tax in the G-20,'' the prime minister will say, according to her office. "You will access service industries and a financial centre in London that are the envy of the world, the best universities, strong institutions, a sound approach to public finance and a consistent and dependable approach to high standards but intelligent regulation."