Deference Bests Division With Kavanaugh on Supreme Court Bench
(Bloomberg) -- The rest of the country may be in turmoil these days. On the U.S. Supreme Court bench, it's all harmony.
In the five weeks since Brett Kavanaugh became the newest justice after a divisive confirmation fight, the court's members are going out of their way to offer public displays of collegiality during arguments.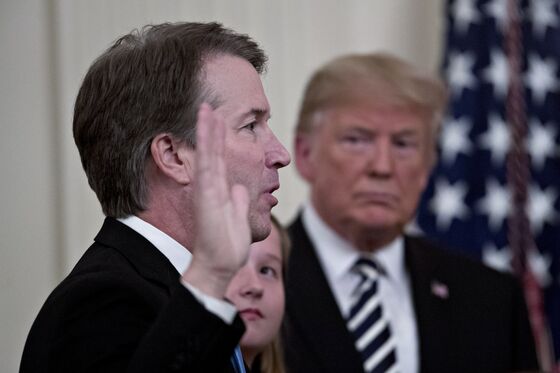 Justice Sonia Sotomayor is playfully pinching Justice Neil Gorsuch. Gorsuch is telling Justice Elena Kagan to "go for it!" And the phrase "go ahead" is now in vogue as justices politely defer to one another when two of them start speaking simultaneously.
The warm-and-fuzzy atmosphere no doubt is helped by the relatively low stakes in the court's cases so far this term. But it also seems to reflect a conscious effort by the justices to set a tone very different from the bitter one that overtook the Senate during the Kavanaugh fight. The justices are scheduled to issue a list of orders Tuesday and will hear arguments next on Nov. 26.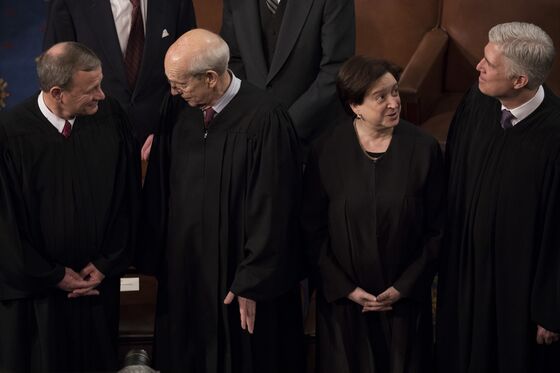 Kavanaugh, President Donald Trump's second Supreme Court appointee, is perhaps the biggest beneficiary of the courtroom cordiality. Three times another justice -- first Kagan, then Gorsuch and finally Samuel Alito -- has yielded to Kavanaugh after asking near-simultaneous questions.
The deference goes beyond Kavanaugh, cutting across ideological, gender and seniority lines. In years past, Chief Justice John Roberts has served as the court's traffic cop, typically requiring more junior justices to yield to senior colleagues.
But Roberts chose not to invoke his own seniority last week when Sotomayor jumped in just as the chief justice started asking a question in a case involving a lawsuit against Sudan.
"Go ahead," Roberts told Sotomayor.
Gorsuch may be the court's most frequent -- and enthusiastic -- deferrer. In a case over a Google Inc. settlement, he and Kagan went back and forth trying to let each other go ahead until they realized they were both attempting to ask about the same thing.
"Jurisdiction?" Gorsuch asked.
"Go for it!" Gorsuch said.
Gorsuch was on the short end of one of the rare interruptions so far this term. In the Sudan case, he was nine words into a question when Justice Ruth Bader Ginsburg cut him off to ask
one of her own.
At times, the friendliness has veered into frivolity. On Kavanaugh's first day on the bench, Oct. 9, Sotomayor gave Gorsuch's robe a whimsical pinch to illustrate a question about the reach of the federal law at issue in the case. Gorsuch reacted with feigned astonishment, bringing the courtroom to laughter.
How long the feel-good era lasts may depend on how contentious the court's docket becomes. The justices will soon have to decide whether to accept cases involving partisan gerrymandering, discrimination based on sexual orientation, transgender people in the military and an Obama-era program protecting young undocumented immigrants from deportation.
Those cases could test what so far has been a friendly era with Kavanaugh on the Supreme Court bench.