Death Threats, Flying Kick Disrupt Pan-African Parliament Vote
(Bloomberg) -- A dispute over whether to rotate the presidency of the Pan-African Parliament descended into chaos, with lawmakers exchanging death threats and scenes of fisticuffs broadcast from the proceedings.
The legislative arm of the African Union began meeting May 24 in Midrand near Johannesburg and has been trying to elect a new president for the past two days. Southern African leaders are demanding that the gathering implement an AU resolution to rotate its leadership, while eastern and western African delegates oppose the move, South Africa's parliament said in a statement.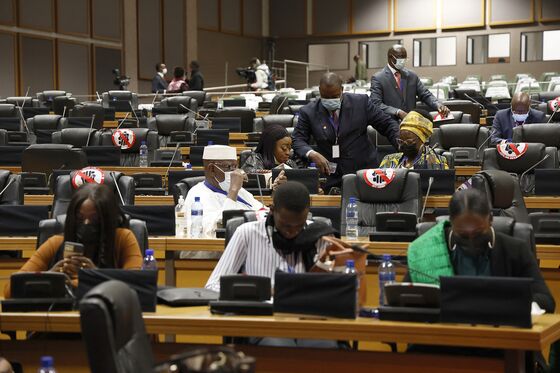 On Monday, the meeting was called off after one lawmaker was shown launching a flying kick at a group of fellow delegates. The leader of South Africa's populist Economic Freedom Fighters, Julius Malema, said he threatened to kill a fellow lawmaker in response to a death threat by a Malian delegate, according to the party's Twitter feed.
"When a person says to me I will kill you I can't give him roses, I told him I will kill you," Malema said.
Proceedings were called off again on Tuesday after the lawmakers failed to heed an appeal by AU Commission Chairman Moussa Faki Mahamat for calm.
"The shocking scenes of violence at the Pan African Parliament today tarnish the image of this honorable institution," he said.
The Pan African Parliament is an advisory body that makes recommendations on continental affairs. It's funded from contributions by members states and donor bodies. The body held its first meeting in 2005 with the aim of harmonizing AU member states' laws.
The new president of the Pan African Parliament will take over from Cameroon's Roger Nkodo Dang, who served two terms from 2015. His predecessor was also from West Africa -- Nigerian politician Bethel Nnaemeka Amadi.