EU Says U.K. Team Agreed to Draft Deal, Despite DUP : Brexit Update
The European Union and U.K. reached a historic Brexit deal, paving the way for Britain's departure from the European Union after three years of negotiations. The pound rallied and U.K. stocks turned higher.
Any agreement still has to be ratified in the U.K. Parliament, where Johnson lacks a majority. Northern Ireland's Democratic Unionist Party, which had earlier refused to back a deal, is yet to comment. Its support will be crucial if Johnson is to get a deal through Westminster.
Follow the latest developments here as they happen throughout the day. All times are CET.
EU and U.K. reach agreement to put Brexit within Johnson's grasp
DUP issues statement saying it can't back the deal "as things stand"
Boris Johnson spoke to Jean-Claude Juncker by phone
Brexit debate at EU summit due to start 3:30 p.m. CET
EU's Tusk and Juncker plan press conference for 7 p.m. to announce outcome of summit Brexit talks
Angela Merkel: ready for emergency summit if needed
EU: U.K. Team Agreed to Draft, Despite DUP (10:41 a.m.)
EU chief Brexit negotiator Michel Barnier informed the bloc's 27 remaining governments on Wednesday that the legal text of a deal was almost completed, but not fully finalized, according to the EU official who was briefing journalists.
Barnier also told the 27 governments that the issue of "consent" -- how Northern Irish politicians would operate any veto over the new customs system -- had been resolved in the negotiating room.
The U.K. government's representatives had signed up to the consent plan, Barnier said, according to the official. That suggests Johnson's team had agreed to the contentious veto proposal, even if the DUP still had reservations.
EU: Summit May Be Last Chance for Deal (10:15 a.m.)
If there is no deal on Thursday, finalizing the ratification of any agreement by the deadline of Oct. 31 may be impossible, a senior EU official told journalists in Brussels. That is a hint that this week's summit is the last chance to avoid the dilemma between an extension that Johnson says he is determined to avoid -- and a no-deal Brexit.
The official confirmed that so far, the bloc's 27 remaining member states have not received a draft legal text of a divorce accord from negotiators. EU leaders will give Johnson the chance to address them at the beginning of the summit. He will need to decide if he wants to take up the offer.
The official said the bloc's 27 governments have been patient and "zen" with the process, but as much as they trust the Commission, they won't sign an international treaty without having the chance to read the text and assess it first.
Johnson and Juncker Discuss State of Play (10 a.m.)
Johnson spoke to European Commission President Jean-Claude Juncker by phone. The U.K. didn't release details of their discussion but a commission spokeswoman said "every hour and minute counts" in the run up to the summit.
Grieve: Don't Rush Deal Through Parliament (9:30 a.m.)
Former U.K. Attorney General Dominic Grieve, who was expelled from the Parliamentary Conservative Party for opposing Johnson's Brexit strategy, warned the prime minister against trying to rush any deal through the House of Commons on Saturday.
"At the moment I haven't even seen the text of it," Grieve told Sky News. He warned Johnson against trying to avoid parliament scrutinizing the detail of the deal. "We may be getting to a better conclusion but if they start to rush it again we will end up in a mess and I'm not prepared to let that happen."
Merkel: Emergency Summit May Be Needed (9:15 a.m.)
German Chancellor Angela Merkel said there had been "significant movement" in Brexit talks in recent days, and applauded Johnson's "readiness to negotiate" with concrete proposals. But a deal is not yet done, she said.
"We're on a better path than we were, but – let me say this morning very clearly – we're not there yet," Merkel told lawmakers in Germany's Bundestag early Thursday. She declined to predict how the two-day gathering of EU leaders in Brussels would end – and suggested an extra summit could be held to push a Brexit deal through, "if necessary."
Merkel said it must remain "crystal clear" that no hard border can be erected between the Irish Republic and the U.K.: "We won't allow violence to flare up with a hard border on the island of Ireland."
Pound Falls as Deal Still in Doubt (9:08 a.m.)
The pound slumped in early morning trading in London as the DUP issued their statement rejecting the deal, falling 0.5% to $1.2773. The currency has been whipsawed with every headline this week and touched a five-month high Wednesday on optimism the Brexit talks may be headed for a late-night resolution.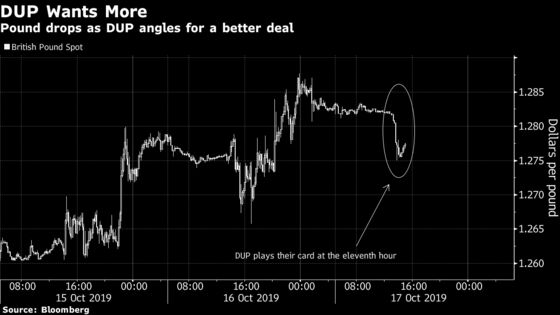 U.K. Says Problems Need Fixing in Brussels (8:42 a.m.)
Privately, British officials sounded cautious about the chances of a deal. One official said hurdles still existed, and needed to be resolved in the negotiating room in Brussels.
That contradicts the suggestion that a draft deal had been all-but written by Wednesday night, when EU officials were hopeful that an agreement was close.
Minister: U.K. Hopes for Deal But Work Remains (8:20 a.m.)
U.K. Housing Secretary Robert Jenrick said efforts are continuing to find a breakthrough after the DUP said it is unable to support Boris Johnson's latest proposals for a deal.
"We remain cautiously optimistic that a deal can be struck, though there's clearly a lot of work to be done," Jenrick told Sky News. "The commitment of the prime minister is absolute. The prime minister, his cabinet and his team are going to continue working as hard as they can."
Talks will continue with the DUP and in Brussels "to see whether there's a way through," Jenrick said.
DUP Says No to Draft Plan for Deal (7:49 a.m.)
The chances of a swift Brexit deal received another blow early Thursday. Northern Ireland's Democratic Unionist Party, which helps prop up Boris Johnson's minority Conservative government in London, said "as things stand" it will not back the draft agreement. As ever, the key hurdle is how to resolve the future arrangements for the Irish border.
DUP leader Arlene Foster identified three key sticking points preventing her signing up. These were: proposed arrangements for dealing with customs checks on goods crossing the the U.K.-Irish border; the mechanism for giving Northern Irish politicians a veto over those arrangements; and a lack of clarity on how to institute sales tax in the region.
"We have been involved in ongoing discussions with the Government," Foster said in a joint statement with her colleague Nigel Dodds. "As things stand, we could not support what is being suggested."
The DUP's backing is seen as crucial to Johnson's willingness to sign up to an agreement. He needs the party's votes in Parliament to maximize his chances of getting a deal ratified in the House of Commons. The DUP said it would continue to work with Johnson to seek an agreement.