Deadly Air Clashes Put Modi and Khan on Brink
India and Pakistan have skirmished for decades over a disputed border in the restive region of Kashmir. But tensions between the nuclear powers have taken a sudden, nasty turn, marking increasingly tricky terrain for leaders Imran Khan and Narendra Modi.
The action has moved from the ground to the air after a suicide bomber killed 40 Indian soldiers earlier this month. Pakistan said today it shot down two Indian aircraft and arrested the pilots. India confirmed the loss of one plane and the capture of one pilot, and said it shot down a Pakistani fighter.
It's one of the worst escalations since a war in 1971, hitting markets and leading to the suspension of commercial flights in the area.
Neither side wants a full-blown conflict. Equally, it's risky for either Khan or Modi to be seen to be backing down entirely.
Sounding tough helps Khan at home as the economy struggles and Pakistan's military continues to doubt the former cricketer's bona fides. Modi is just weeks from a tough election, and nationalist fervor in India is high.
Both leaders may now claim a moral victory and attempt to leave it at that, with Khan warning India can't be "the judge, jury and executioner," while also saying that he's ready to talk.
But it wouldn't take much to turn the long-simmering problem into something far more dangerous.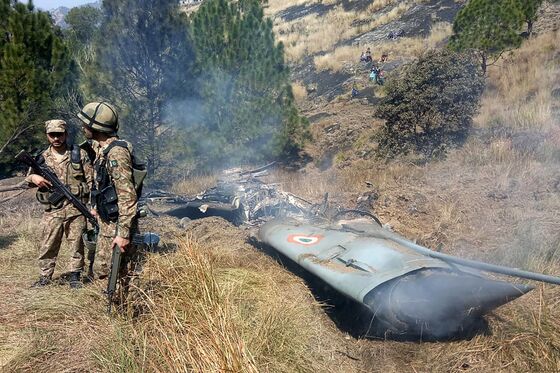 Cohen's moment | Michael Cohen, Donald Trump's former lawyer and fixer, is poised to hurl accusations of wrongdoing against the president in an open U.S. House hearing today that Democrats hope will provide the smoking gun they've been seeking, at least in the court of public opinion. Among his dramatic assertions in prepared testimony: That Trump knew during the 2016 election that his ally Roger Stone was talking to Julian Assange of WikiLeaks about a release of hacked Democratic National Committee emails. Trump ``is a racist. He is a con man. He is a cheat," Cohen intends to tell the committee, about the man he once said he'd take a bullet for. Trump tweeted his latest retort today, accusing Cohen of "lying in order to reduce his prison time."
Twitter feud | In another sign that Trump hasn't left domestic politics behind as he prepares for his one-on-one meeting with North Korean leader Kim Jong Un, the president took aim at Democratic Senator Richard Blumenthal's military service record. Trump, who received five draft deferments during the Vietnam War, mocked Blumenthal -- a member of the Marine Corps Reserves from 1970 to 1976 -- as "Da Nang Dick," a reference to the senator's acknowledgement that he incorrectly claimed to have served in Vietnam.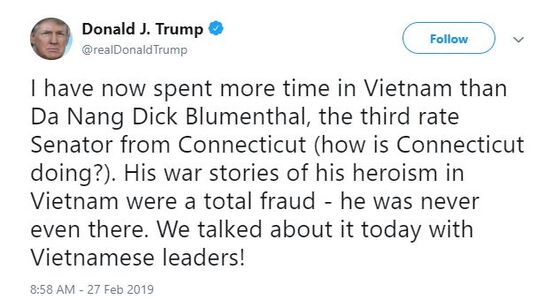 Brexit softening | A path has opened for Prime Minister Theresa May to get her Brexit deal past the U.K. Parliament. Hardliner Jacob Rees-Mogg, who commands about 90 Conservative lawmakers, appears to be softening his opposition. Crucially, he's no longer demanding the withdrawal agreement with the European Union be re-opened. ``I would be quite happy with an appendix,'' he told the Financial Times.
Going Dutch | The Netherlands stealthily raised its public stake in Air France-KLM to 13 percent, catching French President Emmanuel Macron by surprise in what has become a race for dominance over the airline. It's the latest sign that European governments are unashamedly getting more hands-on in major companies to protect their national interests.
Contested election | The glow of Nigerian President Muhammadu Buhari's re-election in the early morning hours faded fast. His main opponent, multimillionaire Atiku Abubakar, rejected the vote as a ``sham'' and said he would challenge the results in court. That may distract Buhari from tackling pressing problems: a war against militants loyal to Islamic State and dealing with the world's highest number of people in extreme poverty.
Senate Republicans must now decide whether to stop Trump from using an emergency declaration to pay for his border wall, a move the president has promised would elicit his first veto.
Venezuelan opposition leader Juan Guaido's safety is at risk as he prepares to return to his country, the top U.S. envoy for the crisis told the United Nations Security Council.
And finally … In another sign of trouble for establishment Democrats, two black women upended Chicago's legendary Daley political machine last night in the fight to be its next mayor. Former federal Prosecutor Lori Lightfoot, or Cook County Board President Toni Preckwinkle will make history when one of them becomes the first black female mayor of America's third-largest city. They defeated Bill Daley, the former Obama chief of staff whose father and older brother ran the city for 43 years between them, to reach April's runoff.