Danske Fights Back as Hush Money Claims Raise New Questions
(Bloomberg) -- As the world had its first glimpse of the Danske Bank A/S whistle-blower, it was clear there was one thing that really got to him: the feeling that he couldn't speak freely.
Howard Wilkinson, a 47-year-old Briton who ran Danske's Baltic trading unit until 2014, told a room filled with Danish lawmakers and journalists that he was offered hush money by the bank that he says is at the center of a massive European money laundering scandal. His lawyer, Stephen Kohn, says Wilkinson still has to get permission from Danske every time he wants to speak about the case.
In a Tweet, Danish Business Minister Rasmus Jarlov said, "If Howard Wilkinson is right about not being able to talk to Danish authorities without facing legal action, that obviously needs to change."
Shares in Danske fell as much as 3.9 percent on Tuesday, bringing losses this year to 46 percent.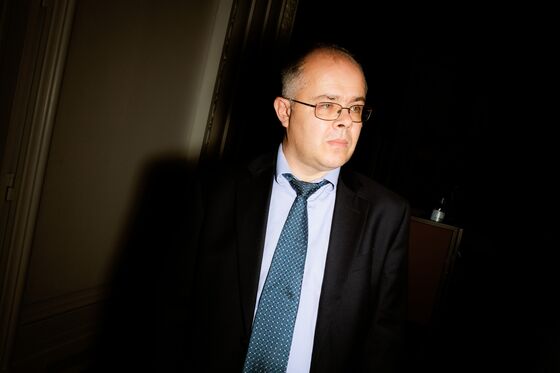 But Denmark's biggest bank, which has admitted that much of $230 billion that flowed through an Estonian unit was probably illicit, vehemently rejects that version of the story.
Danske Bank says:

It will give Wilkinson permission to make the terms of the non-disclosure agreement public if he seeks to do so; the bank itself won't release the document.
It has freed Wilkinson of the terms of his non-disclosure agreement, but can't free him of his obligations under general law when it comes to things like data protection.
"We neither can, nor will, pay employees to stay quiet in relation to potentially illegal acts of which they might have knowledge," Danske spokesman Kenni Leth said in an email late on Monday, after Wilkinson had testified. "Nor are there any employees who, in their contracts, are prevented from going to the police or other relevant authorities, if they are aware of illegal acts."
The Danske scandal seemed to grow in scale after Monday's hearing, with Wilkinson providing new information that implicated Deutsche Bank AG, which has already been identified as a correspondent bank for Danske in Estonia. In his testimony, Wilkinson didn't name Deutsche, but said a large European bank handled more than half the $230 billion in funds that flowed through Danske's toxic Estonian unit. Deutsche Bank shares fell as much as 6 percent on Tuesday.
Deutsche Bank Hits Another Record Low on Money Laundering Worry
The Future of NDAs
Wilkinson, who seemed to have the room on his side when he testified on Monday, has railed against the non-disclosure agreement that he says has prevented him from speaking freely. Kohn, who is a prominent U.S.-based defender of whistle-blowers, says Europe needs to ban such agreements if it's serious about tackling corporate crime.
"In the summer of 2018 Wilkinson asked for a blanket waiver to speak to all law enforcement, because this scandal is in New York, it's in Russia, it's in Estonia, it's in Denmark and wherever the money went," Kohn told reporters in Copenhagen on Monday. "That request was denied and they only gave him a specific waiver to the Danish FSA at the time."
Kohn says that when he became involved in the case, another request was made for a blanket waiver to speak to all law enforcement, "because of the international scope of the scandal and the fact that there are numerous agencies." But he says that request was "also denied."
Danske "gave specific permission" allowing Wilkinson to speak "to the United States Dept of Justice, the SEC and the two parliaments," Kohn said. But he says Wilkinson still hasn't got clearance from Danske to speak to the Financial Crimes Enforcement Network, which is part of the U.S. Treasury, or the Internal Revenue Service in the U.S. Danske has said Wilkinson is free to speak to all these authorities, but Kohn says that's "not accurate."
Kohn said on Tuesday that he's yet to see any sign that Danske is backing down.
"The NDA was highly restrictive and would be illegal under U.S. law," he said. "Neither Mr. Wilkinson nor his counsel have received any confirmation that Danske Bank has waived the confidentiality requirements covering the NDA."