Danske Fails to Impress With Its Dirty Money Offering to Society
(Bloomberg) -- Danske Bank A/S wants to give $230 million back to society to remove profits obtained through its alleged role in an international money laundering scheme. But investors and politicians are making clear they don't think that's enough.
Danske hasn't yet decided exactly to whom it will give the amount, which it calculated based on profits from its Estonian office, where well over $8 billion in dirty money from Russia, Azerbaijan and Moldova was laundered from 2007 to 2015, according to the latest reports.
Chief Executive Officer Thomas Borgen says "it's very clear that we should not have and should not benefit from this." The comments didn't encounter any political resistance, but the government responded by saying the case is far from over.
"I'm glad that Danske Bank agrees with me that it's wrong to keep money earned on laundering," Business Minister Rasmus Jarlov said in a phone interview on Wednesday. "But it doesn't mean that the authorities will end their investigations into Danske Bank."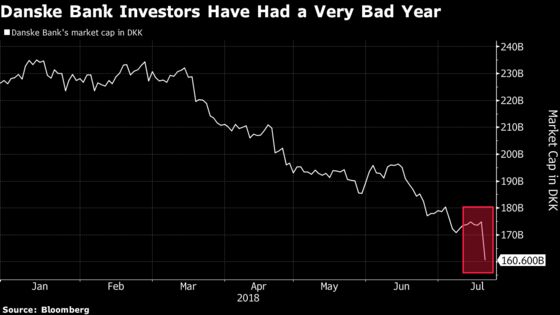 Jarlov has made clear that the government wants to confiscate any funds shown to have come from crime.
"We're still working very hard on investigating what legal options there are in place against Danske Bank and the options there may be will be pursued," the minister said. The government is "reviewing the matter from top to bottom to find out what we can do."
The head of the Danish parliament's Business Committee, which oversees financial legislation together with the ministry, signaled he was unimpressed by Danske's gesture.
Danske Woes to Deepen on Estonia, Worsening Outlook: Bloomberg Intelligence
"It's up to Danske to do what it wants with its money," Morten Bodskov, who is also a former justice minister, said in a phone interview. "But it's not possible to buy special treatment or to pay to avoid a legal case in a country like Denmark."
The Danish Financial Supervisory Authority is investigating the case and "it's a fact that under Danish law, we can seize funds that were obtained through illegal means," Bodskov said.
MP Pension, which has about $20 billion in assets under management, has put Danske on its blacklist, meaning it will stop buying the bank's shares. Jens Munch Holst, a director at the fund, says Danske needs to "clean up" so that "nothing like this ever happens again."
He also makes clear that the bank's decision to return funds obtained through laundering isn't enough to get it off that blacklist. Holst says he expects management to do the right thing. But if it doesn't, then the fund would "feel compelled" to dump the entire $85 million Danske stake it holds, he said.
Shares in Denmark's biggest bank plunged on Wednesday, falling as much as 11 percent at one point. Though the stock recovered some of that decline on Thursday, the shadow of mounting laundering allegations has helped wipe about $10 billion off Danske's market value so far this year.
Much of Wednesday's selloff was triggered by a disappointing earnings report, in which Danske saw a 35 percent decline in trading income in the second quarter and was forced to tone down its full-year outlook.
But many analysts noted that the market still doesn't know how much the laundering scandal will end up costing the bank. The $230 million donation to society is well below the average analyst estimate in a Bloomberg survey for a possible fine of $670 million.
"The laundering case has for a long time fed anxiety about fines in the billions, a change in leadership, massive customer flight and, more recently, the reversal of profits," Sydbank A/S said in a client note. But given the sharp decline in the shares, many of those risks are already priced in, Sydbank said.
At least seven analysts covering Danske, including those at Credit Suisse and JPMorgan, lowered their share-price targets after Wednesday's earnings report, according to data compiled by Bloomberg. Overall, analysts are still mostly positive, with 23 of the 30 tracked by Bloomberg advising clients to buy Danske stock.
Some investors say the signs they're seeing from management are reassuring.
The laundering case is "serious and shows that control operations weren't adequate," Anne Kvam, head of responsible investments at KLP Kapitalforvaltning in Oslo, said in an email. "It's our impression that management is taking this seriously and is in the process of cleaning up its routines." KLP has no plans to exclude Danske from its portfolio, she said.
Borgen, speaking in an interview, said the bank doesn't know how to calculate a provision for a potential laundering penalty, given the information available.
"We have no background for a firm estimate for us to set aside any amount to any fines at the present," he said. "What we would do if -- and this is against our expectations -- there would be any confiscation, that would go against" the $230 million already set aside.
"But if there are any fines, which we have no insight into, it would be in addition," Borgen said.
Danske Plunges, More Consensus Downgrades Ahead, Analysts Say
Meanwhile, Borgen says he should continue to run the bank.
"I think it is important that I accept that I'm responsible for the bank's total activities," he said. "And it's also important that I, with the bank's backing, take charge of it to take it through this time."
"But I have also said this: In case that it's better for me to step down, then I will step down. But it's important now that I take the lead, with the board's backing."