Denmark Targets 'Significant' Vaccine Gains in Talks With Israel
(Bloomberg) -- Denmark opened the door to joint ownership of a coronavirus vaccine plant with Israel, as the European Union member looks for ways to ratchet up capacity through partnerships outside the bloc.
Such a collaboration would help Denmark "significantly" step up its game and inoculate people repeatedly over the next several years, Prime Minister Mette Frederiksen said.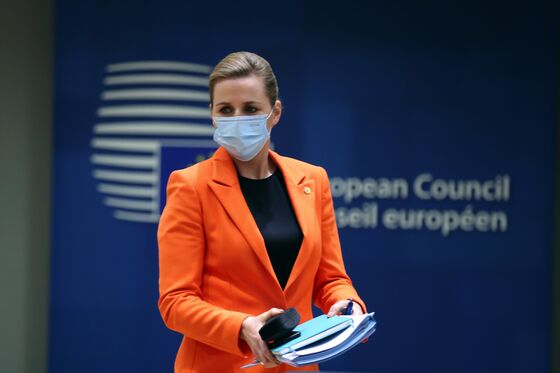 The Nordic country, currently among Europe's most advanced in its vaccination program, has arranged for Frederiksen to visit Jerusalem on Thursday together with her Austrian counterpart, Sebastian Kurz. The goal is to cement a partnership with Israel on vaccine procurement amid an EU supply squeeze.
Co-owning a vaccine plant with Israel "isn't an unrealistic scenario," Frederiksen told reporters in Copenhagen on Tuesday. "I want to increase capacity and that can be in direct cooperation where we -- either in Denmark or in Israel, or elsewhere -- physically support production facilities."
The EU has fallen behind the U.S. and the U.K. in its inoculation efforts, having delivered just 7.5 doses per 100 people, according to Bloomberg's global tracker.
Denmark's decision to collaborate with a country outside the EU doesn't represent a "breach" of the European cooperation, Frederiksen said. She also said she'd advise against any EU member states deliberately snubbing the bloc.
Separately, Pfizer Inc. informed Denmark on Tuesday that it will supply 202,410 vaccine doses per week, more than double the current level, Berlingske reported, citing Statens Serum Institute. The extra doses will start arriving next month, it said.
Frederiksen said Denmark, Austria and Israel agreed on the need for a long-term plan, citing concerns that populations might require repeated vaccination over the coming decade, given the threat of constant coronavirus mutations.
"I am starting to think of vaccinations and re-vaccinations against Covid-19 as something that will take place over a 3-10 year horizon,'' she said. "Israel is also willing to make a long-term plan, that is why I'm joining this cooperation."