Dancing Theresa May Wins Herself Brief Relief From Brexit Splits
(Bloomberg) -- After seventeen months of disasters, Theresa May at last enjoyed an hour in which nothing went wrong.
The prime minister's closing speech to her Conservative Party's annual conference was the most assured she's given, as she tackled her biggest threats head on. Following last year's debacle when she lost her voice, suffered a stage invasion and then found the set collapsing behind her, just getting to the end this time would have been a win.
Ever since the 2017 election campaign started to implode and she lost her parliamentary majority, May has seemed uncertain on domestic ground, unclear on how to take on her Labour opponent Jeremy Corbyn.
But in Birmingham on Wednesday, she danced onto stage to her favorite Abba song -- a self-mocking reference to a viral video from her summer trip to Africa -- and delivered a pitch for the pragmatic center ground of British politics, a space she has seemed reluctant to occupy.
She attacked Labour's policies, announced at the party's own conference last week, as "ideas that might seem attractive at first glance, but which would hurt the very people they claim to help."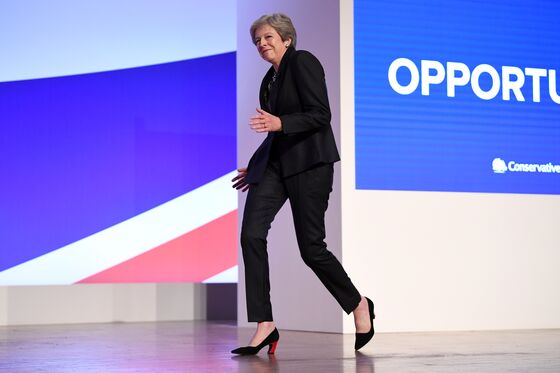 Taking railway and water companies into state ownership -- one of Labour's most popular polices -- would result in "a worse service," she said. "When governments are setting budgets, they will always choose schools and hospitals over reservoirs and railways."
May also promised that tight controls on government spending since the financial crisis would be loosened next year, and that she was going to tear up rules that prevent local councils from building homes -- appealing to voters tired of a lack of affordable housing and deteriorating public services.
On Brexit, the crisis most likely to precipitate her downfall, she also made the case for pragmatism. At event after event this week, lawmakers and activists have called on May to "Chuck Chequers," as her plan for leaving the European Union is known, in favor of a fuller split from the bloc.
On Wednesday she warned against pursuing an ideological approach to Brexit that would damage business.
"The people we serve are not interested in a debate about the theory of Brexit," she said. "Their livelihoods depend on making a success of it in practice. A Brexit that might make Britain stronger 50 years from now is no good to you if it makes your life harder today."
May notably didn't use the word "Chequers," instead referring to her 2017 Lancaster House speech, which Brexiteers prefer because it calls for an unambiguous departure from the EU's customs union and single market. May said her current plan is in line with it.
But there was little sign afterward that she had swayed her opponents. Backbench lawmaker Peter Bone, a leading critic of her Brexit plan, was blunt: "It was a great speech except for Brexit."
He wasn't alone. Outside the hall, it wasn't hard to find activists angry at her refusal to change course.
"It was a complete insult to the membership," said Molly Giles, a councillor from Stratford-upon-Avon. "We've been here focused on getting the policy right for Brexit and how crucial that is, and she spent 90 percent of the time talking about other things. I've never been so disappointed and actually angry about any conference speech I've heard in this hall."
The reality is that significant numbers in her party were implacably opposed to her policy when she walked on stage, and were still against it when she walked off. Even before she'd begun, one of her lawmakers, James Duddridge, had added his name to the list of those calling for her to go.
Last year's speech was followed by an abortive attempt to throw May overboard, and leadership chatter continues, even as Brexiteers acknowledge in private that they probably don't have the numbers to oust her.
But for many lawmakers less bothered about Brexit than having policy answers to Labour's challenge, the speech was a reminder of why they thought she would make a decent prime minister in the first place.