Daley Dynasty Is Blessing, Curse in Packed Chicago Mayoral Race
(Bloomberg) -- The ballot for Chicago mayor hasn't been this crowded since at least World War II, as 14 candidates fight for attention ahead of a Feb. 26 election to replace retiring Mayor Rahm Emanuel.
They include a former police chief, the president of the Cook County Board of Commissioners, the Illinois comptroller and a former chairman of the Illinois State Board of Education. But only one has a name synonymous with Chicago -- and that could be good or bad for him.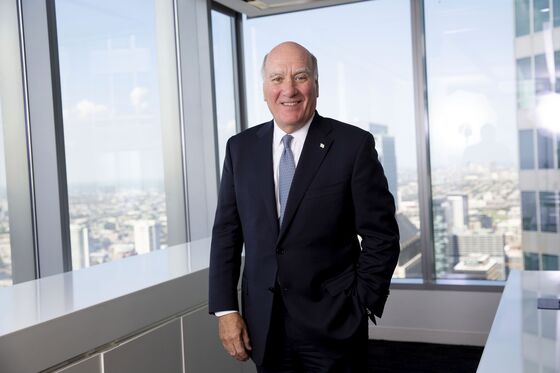 Bill Daley, 70, a one-time JPMorgan Chase & Co. executive who also was a Commerce Secretary under former President Bill Clinton and then President Barack Obama's White House chief of staff, is trying to join the family business by becoming the next mayor of American's third-largest city.
But the Democratic-dominated city is moving to the left -- like the rest of the party nationally -- and Daley's establishment background sets up serious hurdles in his quest to add to the 43 years his father and older brother ran the city.
That conundrum was on display last week at a Daley event designed to showcase an endorsement he'd just received from Howard Dean, a former Vermont governor, presidential candidate and chairman of the Democratic National Committee who was an early leader of the party's progressive wing.
As a question-and-answer session with the audience wound down, Mike Tracy, a hedge fund partner who has yet to decide how he'll vote, asked Dean why he was backing Daley when there are other more progressive candidates.
Dean quickly rebutted the question by saying that just "because Bill is my age, that doesn't mean that he's not progressive" and that coming from a "family that's been in Chicago politics for a long time" also shouldn't be a knock on his liberal credentials.
In an interview, Daley played down those family ties -- he also has a brother who is a Cook County commissioner -- and argued that his only real involvement in city politics was during the first few campaigns of his brother, Richard M. Daley, in the late 1980s and early 1990s.
"I never played at City Hall, in a professional or business or political sense, other than what I did for Rich a couple times he ran," he said.
Daley also dismissed suggestions that his business experience could be a liability as the Democratic Party, at least nationally, increasingly embraces an anti-corporate tone.
"A lot of my progressive friends, who have no business experience, I think are unrealistic about stuff that they think about business," he said. "So, I'm unabashedly pro-business for the future of this city."
Besides serving as a Midwest chairman and head of corporate responsibility for JPMorgan from 2004 to 2010, Daley's business resume includes working as president of SBC Communications. Most recently he was a managing partner at Argentiere Capital AG.
Daley's family and business connections have helped him raise far more money than any of the other candidates. He's pulled in more than $4.5 million, according to records with the Illinois State Board of Elections.
In many ways, Daley is better known in Washington than the city where he was born. He was Obama's second chief of staff, after Emanuel left the post to run for mayor in 2010, and has a reputation as a centrist Democrat who was integral in helping Clinton win passage of the North American Free Trade Agreement in 1993.
While he remains close to Emanuel -- someone he mentored when both worked for the Clinton White House -- Daley distanced himself from the current mayor's brash style, which hasn't always worn well with the city's residents. "My style has been pretty open, to bring people together -- not confrontational," he said.
In such a crowded field, it's almost certain no candidate will receive the 50 percent needed to win on Feb. 26. An April 2 runoff is likely between the top two vote getters.
The race has been embroiled in recent weeks by fallout from a federal corruption charge leveled earlier this month against Alderman Ed Burke, who was forced to resign his powerful post as Finance Committee chairman after prosecutors alleged he pressured executives of a fast-food restaurant chain to become clients of his tax-specialty law firm in exchange for a remodeling permit in his ward.
Daley administrations have had their share of corruption scandals over the decades, but this most recent chapter of alleged Chicago malfeasance could help the clan's candidate, the youngest of seven children. Several of those running for mayor have been tainted by ties to Burke, who has pleaded innocent.
Cook County Board President Toni Preckwinkle, a top candidate in the mayoral race, has been the most closely linked to Burke. The federal complaint alleges he pressured company executives to donate $10,000 to an unnamed politician, later identified as Preckwinkle. He'd also held a fundraiser for her in his home during her campaign for county office.
But Preckwinkle isn't the the only prominent mayoral candidate with ties to Burke. The alderman supported Illinois Comptroller Susana Mendoza in her previous races for the state House and city clerk, and he attended her 2011 wedding.
Gery Chico, another candidate for mayor, was a city council aide to Burke early in his career, before he worked for former Mayor Richard M. Daley and served as board president of Chicago Public Schools. Burke endorsed Chico's bid for mayor before the criminal charges were revealed.
With the Burke scandal and Daley's own family's dynasty in the air, he has pushed a message of reform. That includes a call to shrink the city council's membership from 50 to 15, which he says would make it more on par with other large cities. He also wants term limits of eight years for mayors and 12 years for city council members.
Besides calls for ethics reforms in the wake of the Burke scandal, the next mayor will inherit daunting financial challenges.
The city's four pensions are underfunded by a combined $28 billion. While Emanuel has taken steps to shore up the retirement system by raising property and utility taxes and boosting the city's contributions, it hasn't been enough. The pensions are still only 27 percent funded.
Emanuel has pushed for selling $10 billion of bonds and handing the money over to its pensions, wagering that they will make more on investments than the city will pay in interest. Daley is skeptical.
"It's all great, as long as rates stay good," he said. "There's risk-reward, and I think it ought to be on the table."
But the best way to solve the city's pension problem would be to alter the state's constitution, Daley said. That change, which is backed by Emanuel and opposed by unions, would allow existing benefits for public employees to be reduced.
One other unknown in the race is whether Obama will endorse his former chief of staff in a contest where the former president also has friendly relationships with several other candidates. Katie Hill, an Obama spokeswoman, declined to comment.
Daley recoils a bit when asked whether he's a progressive, a label other candidates in the race are brandishing.
"Progressive was a word when people couldn't call themselves liberals because it was so out of fashion," he said. "I'm unabashedly a liberal who's practical about things to get them done."