World Gets First Rate Hike of 2020 With Surprise Czech Move
The Czech Republic unexpectedly became the world's first country to raise interest rates this year, but policy makers quickly signaled the increase would be the last.
The central bank raised the benchmark by a quarter-point to 2.25% on Thursday, their first hike since May and the ninth increase in two-and-a-half years. Governor Jiri Rusnok said the debate was "complicated and long" and in the end, arguments about risks from accelerating domestic inflation slightly outweighed worries about the global economic slowdown.
"Our decision was difficult because we are objectively still facing a sort of dilemma," Rusnok told reporters. "We don't assume that inflation pressures could escalate to an extent where we would have to react with further hikes."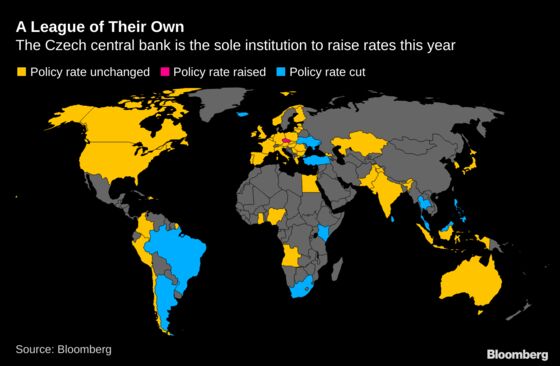 While several central bankers had signaled Thursday's decision may be a close call, no analysts surveyed by Bloomberg predicted the move. Money-market prices had also suggested investors were betting on a prolonged period of stable rates.
The hike sent the koruna appreciating as much as 0.8% to 24.877 per euro, the strongest level since October, 2012. But the exchange rate gave back most of those gains after Rusnok said the bank may discuss potential policy easing in the second half of the year. It traded just 0.3% stronger at 25.003 at 4:55 p.m. in Prague.
"The surprising hike is quickly turning into a dovish hike," said Piotr Matys, an emerging-market strategist at Rabobank in London. "Perhaps the dovish spin is also aimed at preventing the koruna from appreciating excessively."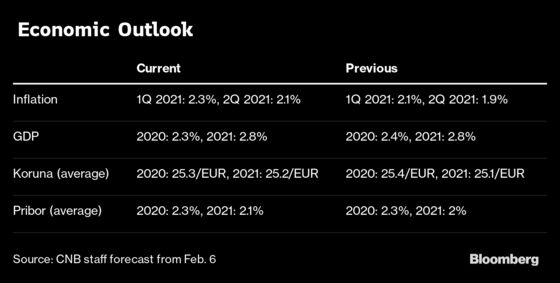 The increase followed a period during which central bankers disregarded their internal forecast suggesting higher rates as they feared more tightening could undermine the country's key manufacturing sectors.
The decision contrasts with the monetary stimulus deployed by the U.S. Federal Reserve and the European Central Bank. It also differs from the cautious approach seen in other central and east European nations grappling with above-target price growth.
Earlier on Thursday, data showed industrial production unexpectedly fell in December mainly due to a decline in the key automotive industry.
The decision was a surprise, as the majority of bank board members were communicating stable rates as the most likely scenario in the past few weeks and months, according to Jiri Polansky, an analyst at Erste Group Bank AG's unit in Prague.
"For the rest of this year, we do not expect any additional hikes with wage growth likely slowing and policy makers taking a cautious approach due to risks to the world economy," Polansky said in a note.