Czechs Tighten Curbs Over Covid Surge, Refrain From Lockdown
(Bloomberg) -- The Czech Republic tightened social-distancing measures to stem a record spike in Covid-19 infections but refrained from declaring a harder lockdown like those imposed by neighboring Austria and Slovakia.
The outgoing cabinet ordered restaurants, clubs and bars to close at 10 p.m. and imposed attendance limits for public events, Health Minister Adam Vojtech said on Thursday. As some hospitals are already overrun with patients, Vojtech expects new coronavirus cases to keep rising and sees the current wave culminating at around Christmas. 
With their vaccination rate of around 60% below levels in western Europe, the Czechs have already barred those refusing inoculation from public events. The new rules apply to all residents.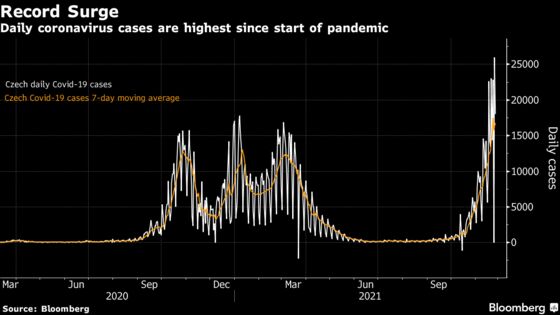 Prime Minister Andrej Babis said he wants mandatory inoculation for people over 50 and select professions, such as medical staff, policemen, soldiers and firemen.
"We are convinced that we have to impose compulsory vaccination," he said, adding that the country isn't opting for a lockdown because that "won't solve anything."
But it's hard to say how long the tighter measures will last.
The incoming cabinet, which is expected to take power in about two weeks, opposes opposes harsh restrictions, and the five-party coalition has signaled it wants to soften curbs on unvaccinated people.   
The nation of 10.7 million, which endured one of the deadliest pandemic outbreaks this spring, reported record 25,864 new cases on Tuesday. Some hospitals have canceled planned surgeries and patients from overrun facilities were transported to other hospitals.