Czechs Outline More Rate Hikes After Shock November Move
The Czech central bank raised borrowing costs more than expected and pledged to continue the European Union's most aggressive rate-hike campaign as fears of runaway inflation overshadow a looming economic slowdown.
Policy makers lifted the key rate by 125 basis points to 2.75% on Thursday, the fourth hike in as many meetings. The move -- the biggest in nearly a quarter century --  brought the benchmark to above its pre-pandemic level, exceeding all forecasts in a Bloomberg survey and market bets for a full percentage-point rise.
Governor Jiri Rusnok said annual inflation may approach 7% this winter. The "forceful" rate move was meant to bring price growth back to the 2% target within 18 months, as well as to anchor the expectations of households and companies, he said.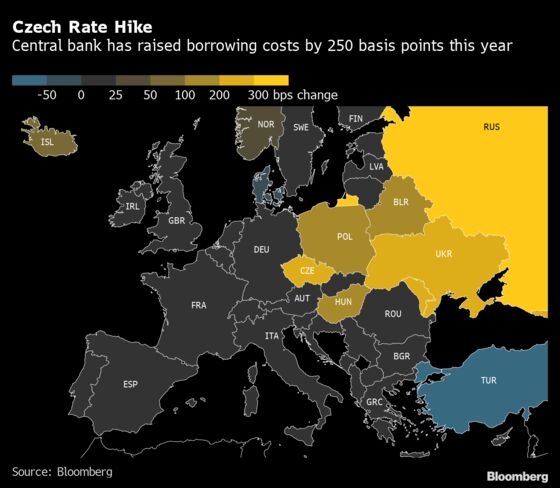 The Czech central bank was among the first to challenge the notion of transitory inflation by launching rate increases five months ago. They're moving to tame price growth -- which unexpectedly shot to at 13-year high of 4.9% in September -- even as global supply bottlenecks, surging Covid cases and a worker shortage threaten to derail economic growth.
The central bank's autumn forecast, unveiled on Thursday, sees "sharp" increases in market interest rates through early next year. Still, Rusnok said the November hike delivered a "large" part of the tightening projected in the new outlook. 
"I can imagine the coming rate increases will certainly be smaller," he said.
The koruna jumped 0.6% to 25.36 against the euro, the biggest gain in five weeks, on Thursday. It's still weaker than the central bank's average forecast for the fourth quarter of this year.
The Czech decision follows a bigger-than-expected increase in borrowing costs by neighboring Poland on Wednesday.
"The hawkish surprises continue in emerging markets," said Win Thin, the New York-based head of emerging-markets strategy at Brown Brothers Harriman & Co. "It's clear that the Czech Republic is the best positioned in eastern Europe in terms of getting ahead of the curve."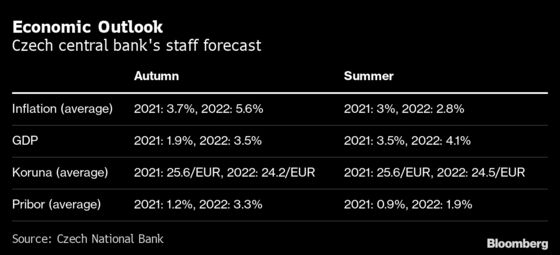 With a global shortage of chips paralyzing the Czech Republic's backbone car industry, the monetary authority cut its forecast of economic growth for this year and next. Fears of inflation getting out of control have become a top theme in the country of 10.7 million people, which has long grappled with a labor shortage and fast-rising property costs. 
Price growth also contributed to the October election defeat of Prime Minister Andrej Babis who, in a rare case of a politician commenting on the independent central bank, condemned Thursday's rate decision as a "fatal blow" against the economy.
Rusnok said domestic drivers, particularly the long-lasting dearth of workers, had been amplified this year by supply-chain problems and commodity costs, and the central bank wants to prevent inflation from becoming entrenched over the long term. 
"We've decided for this forceful increase precisely to send a clear signal that this is something we're not willing to tolerate," Rusnok said. "We have a clear constitutional and legal obligation to primarily safeguard price stability.