Czech Republic Ousts Third Health Chief in Six Months on Covid Struggle
(Bloomberg) -- Czech Prime Minister Andrej Babis fired his third health minister in just over six months as his government grapples with one of the deadliest coronavirus outbreaks in the world and a botched vaccination roll-out.
With opinion polls showing Babis's ruling ANO party trailing opposition rivals before autumn elections, the prime minister replaced Jan Blatny on Wednesday with Petr Arenberger, the director of a hospital in Prague.
President Milos Zeman, who must officially sign off on any government changes, said Blatny had made the pandemic worse by refusing to use Russian and Chinese vaccines, which aren't authorized in the European Union. A politician who has repeatedly clashed with governments due to his pro-Russian and pro-Chinese stance, Zeman urged the new health chief to change the cabinet's position on the matter.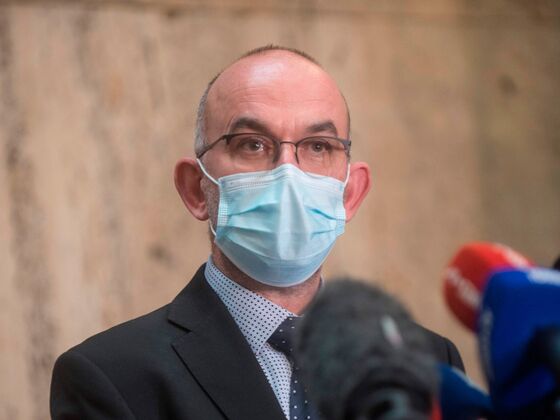 "Each one of us should make sure that we have as many effective vaccines as possible," he told Arenberger and Babis during the naming ceremony on Wednesday.
Babis is under intensifying pressure before the October ballot after failing to corral a resurgence in the virus last fall that made the country of 10.7 million the world's most lethal nation per capita.
At home, the Czech Communist party is threatening to pull its support in parliament for his minority administration due to differences over local political issues.
But he also angered other EU states this month by blocking a plan to redistribute extra vaccines to members that had received less than others, saying the proposal was unfair. He said that in a subsequent deal with Austria and Slovenia, he eventually secured more vaccines than initially envisaged for the Czechs.
The premier pushed back against his ally Zeman over his stance on Russian and Chinese vaccines, saying Blatny wasn't fired to clear way for shots of Russia's Sputnik V. Babis pledged to wait for a decision from the EU's drug regulator before any such purchases.
The government is preparing to gradually ease a strict lockdown starting next week, after it closed most shops, services and schools in late December and curbed domestic travel last month to prevent a collapse of the medical system. The measures appear to have slowed the virus's spread.