Czechs Confirm Plan to Hike Rates But Virus May Delay First Move
(Bloomberg) -- The Czech central bank confirmed its plan to start raising interest rates this year but said one of the deadliest coronavirus outbreaks in the world may slightly delay its first move.
Policy makers voted unanimously on Wednesday to keep the benchmark at 0.25%, as expected. Governor Jiri Rusnok said a later start of monetary tightening "will have no irreversible ramifications" for the economy and the board preferred to err on the side of caution rather than hiking prematurely.
"There is still a high degree of uncertainty," Rusnok told reporters in Prague after the policy meeting. "That could create a need for maintaining relaxed monetary conditions for somewhat longer than our forecast assumes."
The country of 10.7 million people is poised to be among the first in the European Union to raise borrowing costs as a tight labor market and fiscal stimulus keep inflation above the 2% target.
But the central bank has recently questioned its own forecast for hikes starting around the middle of the year as the government keeps extending a partial economic lockdown that began in late December. The measures are only now beginning to temper a spike in contagion that pushed the death toll to more than 25,000.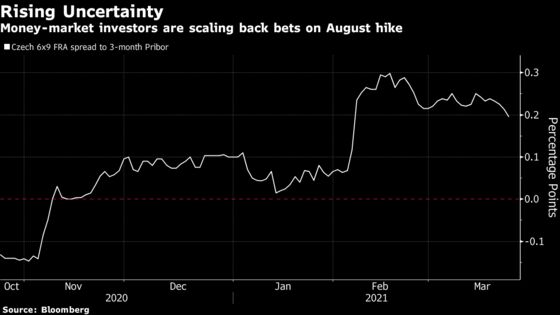 Earlier this week, the governor pushed back against an unusual call from Prime Minister Andrej Babis for policy makers to refrain from raising borrowing costs to help the economic recovery. Rusnok said that, by law, the central bank can't accept instructions from politicians and must secure price stability.
While the government has no formal influence over monetary policy, Babis's comments triggered some koruna weakening as money-market investors trimmed their bets on Czech hikes starting in August.
According to Helena Horska, chief economist at Raiffeisenbank AS in Prague, the premier's pressure will have no impact on the central bank's decisions but was "inappropriate" and could hurt the perception of its independence.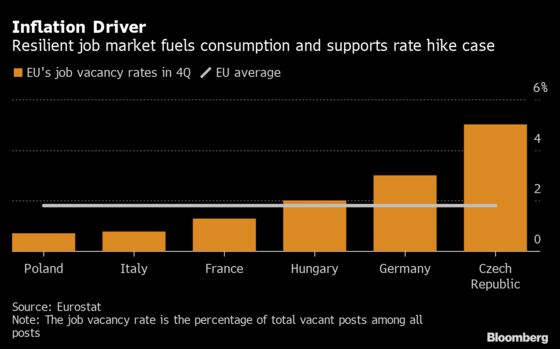 Most shops and services have been closed for months, but the key export-oriented manufacturing industry has remained open and a shortage of workers keeps pushing wages -- and prices -- higher.
The central bank's forecast assumes three hikes this year, starting in the summer, but policy makers have signaled they will wait until the Covid-19 crisis is contained.
"Should the pandemic improve faster than expected, one can imagine the first rate increase already in early August," said Jakub Seidler, chief economist at the Czech unit of ING Groep NV, who predicts two hikes this year. "But betting on that timing seems to be premature for now."