Czech President Labels Transgender People as 'Disgusting'
(Bloomberg) -- Czech President Milos Zeman denounced the transgender community as "utterly disgusting," underscoring an increase in vitriolic sentiment toward sexual minorities by political leaders in the European Union's eastern wing.
Zeman, whose role is largely ceremonial and without executive powers, criticized feminist activists, the Me Too movement and Pride Month events as he sought to defend Hungarian Prime Minister Viktor Orban in his conflict with the EU over LGBTQ rights.
Zeman said in a TV interview he "can understand homosexuals and lesbians," but said that a change in gender amounted to the crime of self-harm.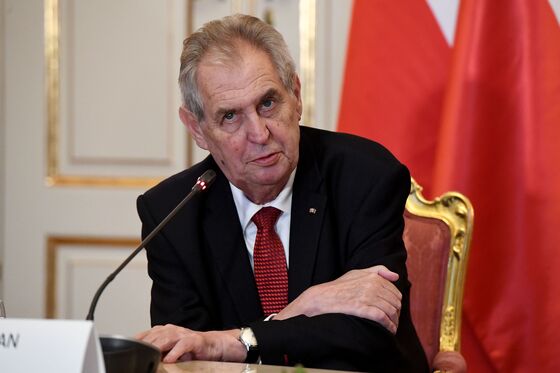 "Every surgical operation is a risk," he said on Prima TV on Sunday. "And to me, transgenders are utterly disgusting."
Zeman, who won his second and final five-year term in 2018, has long been a divisive figure. During Europe's migration crisis, he said letting Muslim refugees into the Czech Republic would bring terrorism and Sharia law to the country of 10.7 million.
His latest comments sparked criticism from the opposition and rights activists at home, who said his views are deepening divisions in society and encouraging prejudice against minorities.
"Such unsolicited attacks on people who are already encountering enough hurdles from the state are very inappropriate." Adela Horakova, a lawyer for an LGBTQ initiative in Prague, said by phone. "These are people who live among us and they wish to have the same respect from the state like anyone else."
Countries in central and eastern Europe were among states where verbal attacks from politicians have "grown sizeably" last year, according to a report by ILGA-Europe, a non-governmental organization promoting human rights and equality for lesbian, gay, bisexual, trans and intersex people.
The EU Commission has triggered legal proceedings against Hungarian legislation outlawing school materials and other content for children that can be deemed to "promote homosexuality." The bill, which pairs the LGBTQ community with pedophilia, extended a law adopted last year that effectively bans same-sex marriages and prevents these couples from adopting children.
Orban was berated by fellow EU leaders last week at a summit in Brussels, with Dutch Prime Minister Mark Rutte going as far as to challenge the Hungarian leader to take his country out of the trading bloc over the issue.
Hungary wasn't alone in the debate, though, with other post-communist eastern European countries like Poland and Slovenia also sympathetic to Orban's position. Polish President Andrzej Duda even made his opposition to gay rights a key theme of his re-election last year.
On Monday, Orban suggested that the EU make peace with differing visions. He compared the standoff to the polarized debate over refugee policy, where the anti-immigrant Hungarian premier has repeatedly refused to compromise on a proposed common EU approach and called arriving immigrants "invaders."
"In both cases the answer is the same: There's no unity in values, and that's why there's no political unity either," Orban said in a statement. "If we want to keep the European Union together, the liberals must respect the rights of non-liberals."