Czech Leader Warns of 'Hellish Days' and Tighter Lockdown Coming
(Bloomberg) -- Politics is complicating the response to one of the deadliest virus outbreaks in Europe as the Czech Republic's government struggles to muster support to tighten social distancing rules.
With Prime Minister Andrej Babis's administration lacking a parliamentary majority, the opposition has leverage over his ability to stem the pandemic. Now those parties are tapping into voter frustration with demands that they be included in the debate over new measures and get access to information as they ratchet up pressure on his ruling ANO party before October elections.
With new cases per capita growing seven times faster than in neighboring Germany, Babis warned the European Union member was facing "hellish days" and a "catastrophe in hospitals" on Wednesday.
But a late-night emergency cabinet meeting ended with no decisions, and officials said the government must first seek support from opposition leaders to support extending a state of emergency until the end of next month so it can continue and possibly intensify lockdown measures.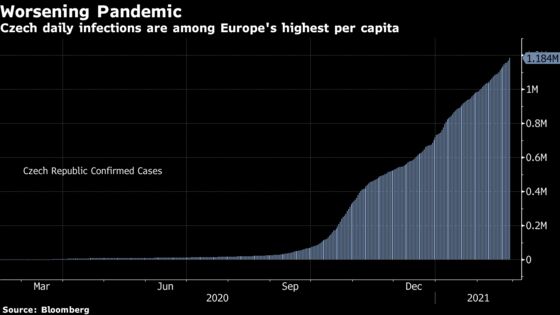 "We want to discuss the final text of our proposals with the opposition, before parliament votes on it on Friday," Deputy Prime Minister Jan Hamacek said after the session ended at midnight. The government is meeting again later on Thursday.
After a brief respite that allowed stores to reopen in December, the Czechs started 2021 with a spike in new infections. The pandemic started to accelerate in last two weeks again despite most shops, schools and services closed since the end of December, partially due to a stem of faster spreading variants.
The Health Ministry reported 13,657 new cases for Wednesday, an increase of 2,725 from a week earlier. There were 968 Covid-19 cases per 100,000 people over the two-week period ending Feb. 18, compared with 141 in Germany, according to the European Centre for Disease Prevention and Control.
The government has indicated it wants impose limits on internal movement in the nation of 10.7 million as well as close all schools. It has balked at calls from epidemiologists to shut down factories and other industrial sites.
"What we need is a strict lock-down, which that has never been imposed here," Vaclav Horejsi, professor of immunology at the Charles University told Czech state radio. "If hospitals are overrun, people will start to die at home."
With intensive care units becoming overrun, patients are being transported to less affected areas in the country, and Babis has asked German Chancellor Angela Merkel to potentially accept some patients in German facilities.
Political infighting and an off-and-on approach to social distancing rules have hit Babis's popularity ahead of the elections. His critics accuse him of responding too late to a resurgence in September and say allowing Christmas shopping was a mistake. The government says lax adherence to social distancing rules is at least partly to blame.