Czech Junior Ruling Party Pushes for Bank Tax to Prop Up Budget
(Bloomberg) -- The Czech Republic needs to impose a special levy on lenders to finance the planned social spending, a junior ruling-coalition party said, increasing pressure on the prime minister who's made a promise not to raise the corporate tax burden.
Like many other post-communist countries in the European Union, the Czech Republic is bracing for an economic slowdown amid signs of weakness in its largest export market, the euro zone. The latest effort to boost budget revenue via levies on selected industries in Romania triggered a market crash and a pushback from the country's central bank.
Read more: Rage From Central Bank Pushes Romania to Mull 'Greed Tax' Change
An economic boom in the past few years has allowed the Czech government to increase pensions and public-sector wages while maintaining one of the healthiest public finances in the EU. But the country now needs to adjust its budget plans to continue with the promised social programs and long-delayed infrastructure investments.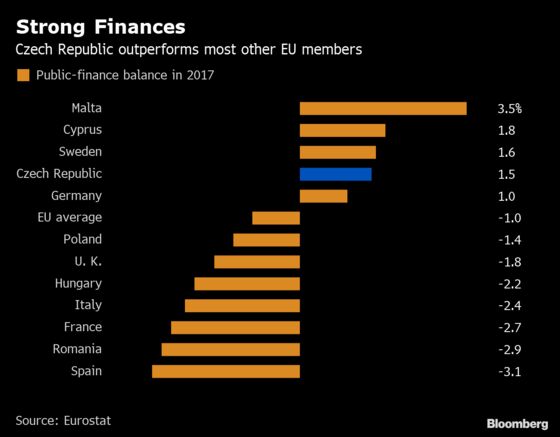 Prime Minister Andrej Babis, the head of the the senior coalition member ANO, is looking for cuts in ministries' expenditures and is considering higher taxes on tobacco or alcohol to boost revenue. Babis has repeatedly rejected proposals by the Social Democrats to raise corporate taxes, but the junior coalition member insists such measure will be needed to meet the promised increases on social spending.
"Its linked to the debate about the state budget next year," Social Democrat Chairman Jan Hamacek told the E15 newspaper in an interview. "The Social Democrats have long been saying that we cannot just cut spending. We have to find a source of revenue."
While the tax collection is going well, the state should focus more on banks, big corporations and the large amounts of money leaving the country as dividends paid to foreign owners, said Hamacek, who is also the interior minister and deputy premier. The government will have to find additional 30 billion koruna ($1.3 billion) in the budget if it wants boost retirement benefits as planned, he said.
The party estimates that a higher bank tax would add some 10 billion koruna in revenue to the budget. "I cannot imagine fulfilling the government program without it," said Hamacek.