Czech Premier Revives Anti-Migrant Rhetoric Before October Vote
(Bloomberg) -- Billionaire Czech Prime Minister Andrej Babis dusted off his anti-migrant agenda as part of efforts to reverse a decline in popularity before general elections in October.
Babis has slipped from a wide lead in opinion polls as his government's response to the coronavirus pandemic underperformed neighbors and he was harshly criticized by the opposition.
On Thursday, when he survived a third attempt to bring down his minority administration, he returned to some of the rhetoric that propelled him to power four years ago.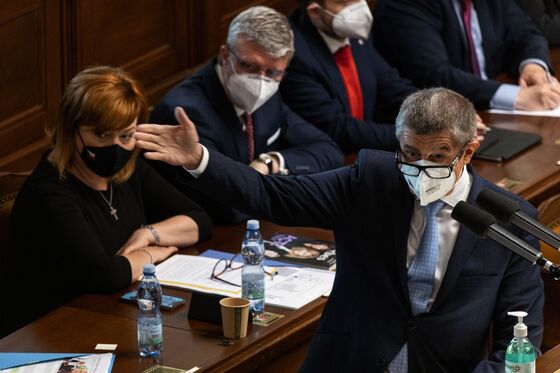 "I don't want a Muslim Europe," Babis told lawmakers before the no-confidence vote. "I said it a thousand times, the Czech Republic is a sovereign state and we ourselves will decide who'll work here and who'll live here. That's the only responsible solution to migration."
He's also under pressure after an EU audit found him in a conflict of interest over ties to his business empire, which receives the bloc's subsidies, and is awaiting a prosecutor's decision on whether to charge him with fraud. He rejects all allegations, calling them fabricated.
The opposition, which triggered the failed no-confidence motion, argues that the pandemic-relief programs are too expensive and ineffective. They're banking that an agenda of fiscal prudence will resonate with Czechs who are traditionally averse to debt.
Babis rejects such criticism and says the country's ratio of debt to gross domestic product will remain one of Europe's smallest -- even after the unprecedented borrowing spree.
"We've invested hundreds of billions into the Czech Republic in recent years," he said. "Railway administration and road management have never have budgets like this."