Cuomo Digs In Amid Scandal Few Corporate Boards Would Allow
(Bloomberg) -- New York Governor Andrew Cuomo wants voters to wait for investigations he says will disprove sexual misconduct claims that have prompted calls for his ouster. In Corporate America, where the Me Too movement has felled executives at hundreds of public companies in recent years, he would be less likely to get the same leeway.
The three-term governor has defied calls to resign from Albany and Washington, flatly denying on Friday the sexual-harassment allegations that began in December. Seven women, many who worked for him, have accused him of impropriety.
Even though the state Assembly began an impeachment investigation this week, lawmakers and politicians say Cuomo has dug in. Many say they have no choice but to continue working with his office on a state budget due March 31 and a crucial vaccine drive the Cuomo administration controls.
Cuomo, who manages a $200 billion state budget comparable in size to many Fortune 500 companies, has said he intends to focus on the work ahead. "This is not the first time we've had to walk and chew gum here, right?" he said Friday.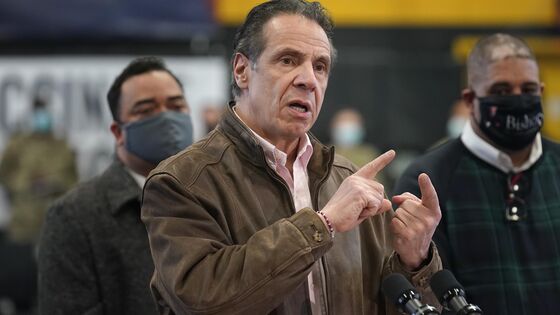 The response is a far cry from the swift, public dismissals of chief executive officers like Steve Easterbook, who was fired by McDonald's Corp. after a consensual relationship with an employee, a violation of corporate policy. Or Intel Corp.'s Brian Krzanich, who resigned after a similar matter. Even Wynn Resorts CEO Steve Wynn, who ran his eponymous hotel chain for three decades, resigned just 11 days after allegations of sexual misconduct and rape surfaced.
Jay Jacobs, New York's Democratic Chair and a longtime Cuomo ally, said the governor and state lawmakers reached "an impasse, where a group of people wanted him to resign and he said 'no thank you." So now, it's time to "move forward."
"The question was can he still govern, and he is demonstrating he can," Jacobs said in an interview Monday. "There are bigger issues to tackle, and with the investigations, we know this matter will be resolved eventually."
Indeed, the embattled Cuomo has tried to project a business-as-usual message. During a televised conference at a Harlem vaccine site on Monday, he touted efforts to reach Black communities.
Assembly Speaker Carl Heastie said Wednesday a probe could stretch well over a month. A separate investigation led by lawyers appointed by New York Attorney General Letitia James just began interviewing Cuomo accusers this week and her office says there's no set timeline.
Unlike governors who answer to their voters and are only up for re-election every few years, corporate chiefs answer to a board of directors charged with guarding the firm's immediate stock price and public investors.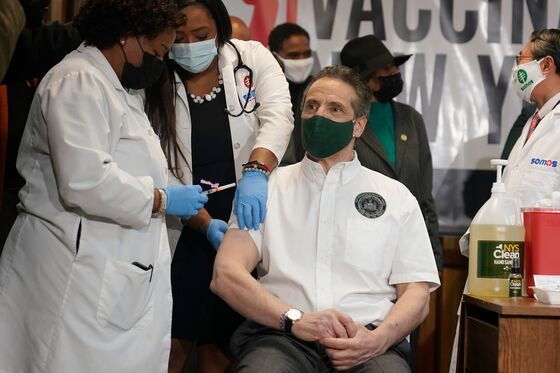 The intense scrutiny hoisted upon boards during the Me Too movement has shrunk the time CEOs get to prove their case. The amount of time between when a misconduct allegation emerges to an executive's dismissal dropped from about six weeks in 2017 to almost immediate action by the middle of 2018, according to an analysis of nearly 240 incidents by crisis consultancy Temin & Co. The firm tracked allegations with at least seven press mentions.
The peak year was 2018, after allegations of sexual assault by movie producer Harvey Weinstein prompted the MeToo movement and thousands of women came forward with claims against executives at Athenahealth Inc., Papa John's International Inc. and CBS Corp. A wave of so-called "Weinstein Clauses," which singled out harassment as a specific reason for firings, were added to employment contracts and corporate takeovers.
Seven CEOs among companies in the Russell 3000 Index of large U.S. companies were fired or resigned in 2019 and 2020 due to improper relationships or other non-financial misconduct allegations, according to exechange, a company that tracks CEO firings. All of those executives, include Easterbrook at McDonald's, were fired or resigned in tandem with the company announcing the findings.
"It's like boom-boom" and the CEO is fired, said Ed Soule, an ethics professor at Georgetown University.
Soule said a company's board is weighing repercussions on the firm's image and market value, their own reputations as directors, and whether the CEO can still be effective.
Elected officials accused of sexual misdeeds are harder to fire and can take months or years, Soule said.
Politicians are also freer to publicly fight the allegations, aided by partisan politics that help maintain a base of support. And as in Cuomo's case, it's often years before the official actually faces a reckoning with voters.
In a Siena College poll released Monday, half of registered voters in New York said Cuomo shouldn't resign, but only a third said he should run for re-election in 2022. The support shows that months of prime-time television appearances and early praise by President Joe Biden has burnished Cuomo's reputation with voters, and that compelling him to step down won't be simple.
Some companies do hold off on taking action until an outside investigation is complete, like in the case of former CBS CEO Les Moonves, but most don't want to wait for their share prices to react.
"Public reaction, consumer reaction can be swift," said Kabrina Chang, an ethics and business law professor at Boston University. "There's more of a buffer with an elected official, rightly or wrongly."
Even if the attorney general's investigation bolsters the women's allegations against Cuomo, the state Legislature -- or the voters -- would still have to go through impeachment proceedings to remove him from office.
Under New York's Constitution, a majority vote in the Assembly could force Cuomo to temporarily relinquish power. It would take a supermajority of state senators and top judges to remove him from office permanently.
In politics, the slower process gives the accused more time to push back, especially if they can keep their grassroots support.
After former President Donald Trump bragged about sexually assaulting women in a leaked "Access Hollywood" tape before the 2016 election, Republicans condemned his actions. But he won the election and his party mostly dropped their criticism, even after further allegations surfaced.
Supreme Court Justice Brett Kavanaugh, a Trump nominee, faced claims of high-school sexual abuse during his Senate confirmation hearings. Democrats held up the accusations as a reason he shouldn't serve, but Kavanaugh maintained Republican support and was confirmed.
When elected officials are forced out quickly, it's typically because their own party has turned against them.
After Senator Al Franken of Minnesota was accused of inappropriate behavior with women in 2017, fellow Democrats, led by New York Senator Kirsten Gillibrand, quickly called for his resignation. He left office shortly afterward. Prominent Republicans also spoke out against Alabama Senate candidate Roy Moore after sexual-assault allegations, and he lost the race.
In Cuomo's case, dozens of lawmakers in his own party have called for him to resign, but he still maintains nodes of Democratic support across the state.
An investigation of Cuomo will likely include whether he violated a law he signed in 2019 that made it easier for workers to bring sexual-harassment allegations against employers. Former legislative staff members who said they experienced sexual harassment in Albany helped lobby for the law.
"That statute covers all employers within the state and it is understood that the state is an employer," said Andrea Johnson of the National Women's Law Center.
Johnson said the state is presumed to be an employer under the statute, even if not specifically named as such. Originally, the law defined an employer to include the "state and all political subdivisions thereof" but a chapter amendment passed the same day struck that language. The amendment states that the clause was taken out to reduce redundancy, as the state is understood to be an employer.
When signing the 2019 legislation, Cuomo argued that times were changing.
"There has been an ongoing, persistent culture of sexual harassment, assault and discrimination in the workplace, and now it is time to act," he said.