Cuomo Creates Political Vacuum With Exit From State He Dominated
(Bloomberg) -- New York Governor Andrew Cuomo's resignation on Tuesday creates a power vacuum in the politics of a state he had dominated for a decade, adding new uncertainty for Democrats gearing up for crucial congressional and state elections next year.
Cuomo's exit follows a steady crumbling of his standing over the last week, starting with a stunning report by New York state Attorney General Letitia James that laid out evidence of sexual misconduct against 11 women, most on his staff, including a state trooper he had assigned to his personal security detail. In the report's wake, Democrats from Albany to the White House publicly said that he needed to save the party by stepping down.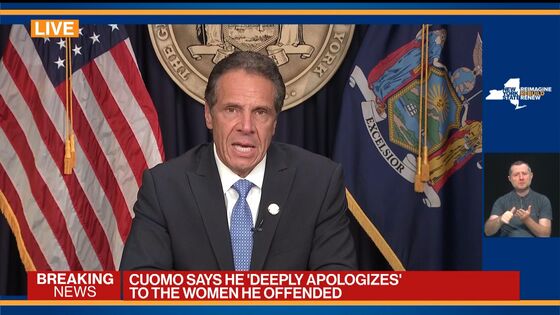 But even as he gave two weeks' notice, took responsibility for his actions and apologized to his accusers in a televised appearance, Cuomo called James's report "false." He said "rashness has replaced reasonableness," an impeachment would "brutalize people" and claimed he was unaware that cultural lines had shifted in the treatment of female subordinates.
Even his timing was seen as out of step with the party's needs. He called a press conference at his New York City office for his resignation speech at the very moment the U.S. Senate was passing its infrastructure plan, a huge bipartisan win for one of President Joe Biden's top domestic goals, drawing television coverage to Cuomo instead of Capitol Hill.
Questions about Cuomo greeted Biden as he celebrated the bill's passage Tuesday. Biden sought to separate the party from a man who was nicknamed "America's Governor."
"The impact is all on Andrew Cuomo," Biden said when asked about the resignation's impact on the Democratic Party.
The most immediate effect of Cuomo's resignation is the elevation of Lieutenant Governor Kathy Hochul to the state's first female governor, a historic feat that leaves just 19 states without ever having a woman as chief executive.
Hochul wasted no time taking control -- she called a news conference to be held at the State Capitol building in Albany on Wednesday afternoon.
As the incumbent and a well-known fixture around the state, the downfall of Cuomo gives Hochul the upper hand in the Democratic gubernatorial primary next year, if she chooses to run. But she'll also likely face a challenge from the left that could include New York City Public Advocate Jumaane Williams, who ran unsuccessfully against her in 2018 for the lieutenant governor's post, and James. James hasn't confirmed her plans.
Williams declined to comment on a possible 2022 run but said Cuomo's departure represents an opening for the Democratic Party.
"Right now we're in the middle of a leadership crisis and at least for a couple of days we need to address that as much as possible," he said.
He urged Democrats to "learn from the lessons of how this happened and how people were allowed to enable him," he said. "There's just an opportunity here. New Yorkers have been failed by this governor more than I think people realize."
Cuomo's departure also has a ripple effect, creating vacancies across national, state and local governments if other Democrats run like State Comptroller Tom DiNapoli, U.S. Senator Kirsten Gillibrand, or state Senator Alessandra Biaggi. On the Republican side, U.S. Representative Lee Zeldin is the biggest name among five candidates that have already announced.
Fordham University associate professor Christina Greer said Cuomo's departure should prompt Democrats to examine how Cuomo mistreated his staff for so long.
The Democratic Party "has to sort of have a reckoning with itself whilst also reinventing itself," Greer said in an interview before Cuomo resigned. "They have to ask themselves, 'How did we let this happen for so long?'"
Suddenly a Wide Open Field
Without Cuomo drawing the bulk of the state's fundraising dollars and media attention, other candidates will have a better shot of breaking through. His departure allows downballot candidates to run for office without Cuomo's baggage hanging over their candidacies, but also leaves state politics unsettled in the absence of Cuomo's larger-than-life political presence.
"Cuomo's departure opens the party to a lot of uncertainty," said Bill Cunningham, a Democratic political consultant. "The field is now wide open."
Cuomo's exit could boost the GOP's chances in a state dominated by Democrats. New York hasn't had a Republican governor since former Governor George Pataki left office in 2006, and Cuomo was a prodigious fundraiser who won his three races handily, although his approval ratings had flagged since peaking during his famous coronavirus briefings last year.
A bruising Democratic primary could leave Republicans an opening in the general election, which will come at the same time as congressional midterms, which typically drive turnout among the party opposing the president.
Democratic Party Chairman Jay Jacobs said in an interview last week that Cuomo not running in 2022 would leave "a bit of a vacuum" for the party, but said Democrats could avoid the taint of scandal because Cuomo's actions were so closely tied to his personal conduct. Jacobs continued to support Cuomo after the allegations surfaced earlier this year, but pulled his support after the attorney general's report was issued.
The party, Jacobs said, "can be proud of the fact that when the head of our party has gotten himself into difficulties, we've stood up to do the right thing."
Cuomo Out, Newsom Faces Recall
Cuomo's ouster comes as California Governor Gavin Newsom, another Democratic leader of a major state, faces a recall election. Republicans were already seeking to use Cuomo's troubles to raise questions about the Democratic party, with Zeldin sending a fundraising message seeking to tar Hochul, who was not in Cuomo's inner circle, with the scandal.
Cuomo may not be done with politics, either. Democratic strategists say that by resigning instead of being impeached, he could run again. The Assembly remains divided on whether to still pursue impeachment proceedings, which will be costly and time-consuming at a time the state is reeling from the economic and health impacts of the coronavirus. He also faces possible civil criminal and charges: A spokeswoman for the Albany district attorney's office said on Tuesday that the Cuomo inquiry into criminal conduct "remains open."
For now, it looks unlikely that Cuomo runs again -- at least anytime soon. Seven out of 10 New Yorkers in a Quinnipiac University poll conducted after the James report was released said Cuomo should step down and his once sky-high approval rating bottomed out at 28%, his lowest ever.
Rebecca Katz, a Democratic strategist and Cuomo critic, said that former Representative Anthony Weiner and former Governor Eliot Spitzer both tried to bounce back after resigning due to sexual misconduct scandals by running unsuccessfully for other offices.
"We have a lot of ugly resignations in New York politics where these guys try to make a comeback," she said.