Trump-Loving Diplomat Picked to Run Brazil's Foreign Ministry
(Bloomberg) -- Brazil's President-elect Jair Bolsonaro appointed a staunch anti-communist and pro-Christian diplomat to lead efforts in reshaping the country's foreign policy.
Ernesto Henrique Fraga Araujo, 51, a mid-level career diplomat and the current head of U.S, Canadian and Inter-American Affairs at the foreign ministry, is the latest cabinet pick by Bolsonaro's transition government. An experienced diplomat, Araujo has run a blog that praised Bolsonaro and derided the leftist Workers' Party as a "terrorist party". A fierce critic of cultural Marxism and globalism, Araujo has also written extensively in praise of President Donald Trump.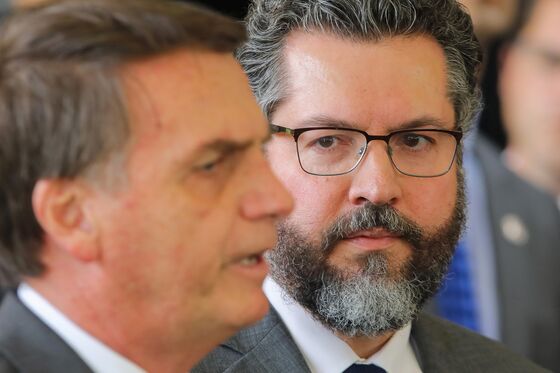 "The choice is a sign of a new blood and a real commitment to change," said Matias Spektor, a foreign policy expert at the Getulio Vargas Foundation (FGV). "Of all those considered for the top diplomatic job, he is the one who most represents a break with the past."
The choice of Araujo is not the only sign of rupture with Brazil's traditional foreign policy stance. Earlier on Wednesday, the Cuban government announced that it will withdraw its doctors from Brazil due to "threatening" comments made by Bolsonaro about the employment of medics from the Caribbean island in low-income communities. Araujo himself told reporters in Brasilia after his appointment that the Bolsonaro administration will take a hard line on the socialist government in Venezuela. Beyond Latin America, the president-elect is also weighing whether to move the country's embassy in Israel to Jerusalem.
In a letter to the Pan-American Health Organization, posted on the Cuban health ministry website, the government in Havana wrote that changes to the Mais Medicos or More Doctors program proposed by the incoming government were unacceptable. Bolsonaro subsequently tweeted that the Cuban government had refused to accept his requests to test the doctors' competency, give up its cut of their salaries, and grant them the right to receive family visits.
"We cannot accept slave labor on the part of the doctors," Bolsonaro told reporters.
Introduced by former President Dilma Rousseff in 2013, Mais Medicos hires doctors -- mainly from Cuba -- to work in poor or remote areas with little public health care. According to Brazil's health ministry, 8,332 Cubans currently work in the program, which has come under criticism for paying part of the doctors' salary directly to the Cuban government and undercutting Brazilian health care professionals.