Crop Rally Set to Spark Record U.S. Soybeans, Corn Plantings
(Bloomberg) -- A rally that sent crop prices to a six-year high will prompt American farmers to plant the most corn and soybeans on record, according to the U.S. Department of Agriculture.
Growers will plant a combined 182 million acres of the two crops this year, assuming normal weather conditions, Seth Meyer, chief economist at the agency, said at the agency's Outlook Forum. Growers are set to plant 90 million acres of soybeans and 92 million acres of corn, he said.
Plantings will surge after China, the world's largest buyer of commodities, scooped up American crops to feed a hog herd that's rapidly recovering from a deadly pig disease. Combined exports of corn and soybeans reached a record in the fourth quarter, helping to send a gauge of grain prices to the highest level since 2014.
"Record amount, but still not enough to meet China demand with trend yields," said Dan Basse, president of consultants AgResource Co. in Chicago.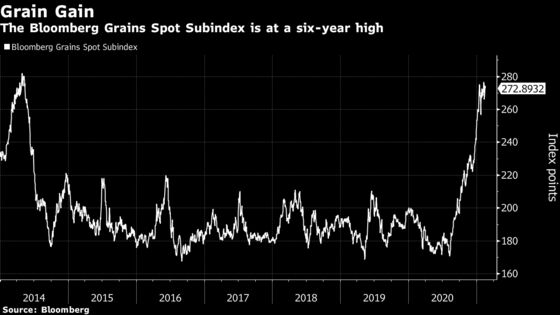 Soybean acreage is forecast to surge 8.3% from last year, while corn plantings are expected to expand 1.3%, according to Meyer. That's if the weather cooperaterates, he said.
"Weather always has the last say," Meyer said.
Corn futures traded in Chicago fell as much as 0.8% to $5.4650 a bushel and soybeans fell as much as 1% to $13.7125 a bushel after the forecasts.
American crop exports remain strong and that's set to continue in the near-term, driven by China. There hasn't yet been demand rationing, he said.
"Certainly Chinese demand isn't being rationed by those higher prices," he said.
Winter wheat acres are set to climb for the first time since the 2013-14 season, expanding 5% to 32 million acres, according to the USDA. Higher returns for corn and soybeans in the northern Plains are set to reduce spring and durum wheat sowings.
Total wheat area is forecast to expand 651,000 acres to 45 million acres, the agency forecasts. Cotton area is expected at 12 million acres, slightly lower than last year, Meyer said.