Crop Markets Deepen Weekly Losses as Trump Escalates Trade War
(Bloomberg) -- Terms of Trade is a daily newsletter that untangles a world embroiled in trade wars. Sign up here.
A fresh salvo from Donald Trump in the U.S.-China trade war has roiled agriculture markets, deepening weekly losses and damping chances of any fresh Chinese purchases of American farm products.
While crop futures recovered some poise on Friday, soybeans are still on track for their worst weekly loss since early May and hogs are heading for their biggest weekly plunge in a year.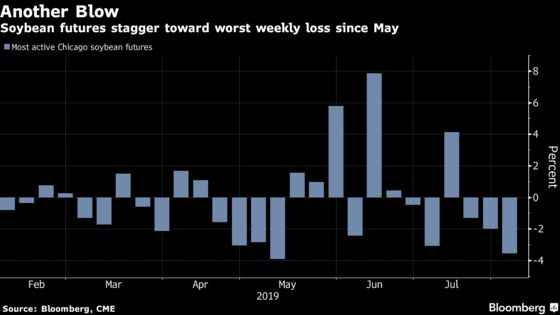 President Trump abruptly escalated his trade war by announcing Thursday new tariffs on Chinese imports and bringing a sudden end to the truce in place since he met counterpart Xi Jinping at the end of June. Adding to market concerns is the possibility of new measures by China in response to Trump's latest broadside, which could further weigh on trade and global growth.
"It's still unclear whether China will announce new retaliatory moves against the U.S.," said Jia Zheng, trader at Shanghai Minghong Investment Management Co. "If it happens, it will have a strong, depressive impact on the market."
China had earlier waived retaliatory tariffs on some U.S. farm imports in apparent preparation for new purchases, but there has been no confirmation of fresh deals, and Trump's latest move may well mean they are now less likely. Adding to the trade pain was news Thursday that China had made its biggest ever cancellation of American pork.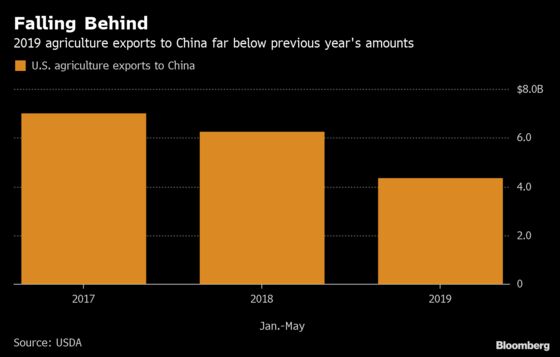 Global soybean and corn markets have ample supplies, even after the heaviest rainfall in decades in the U.S. Midwest cut the outlook for American crops. The spread of African swine fever in China has slashed hog herds and reduced feed consumption, curbing demand for soybeans from the world's top importer.
The trade war has roiled agricultural companies. Archer-Daniels-Midland Co. has said it's stepping up a cost-cutting drive to fight thin industry margins as a resolution to the conflict takes longer than expected. Bunge Ltd. is going through a similar process, while Cargill Inc. said last month that it was reviewing its business plans.
Agriculture players in the U.S. have expressed concern that China is now strengthening ties with rival producers and may not return to the American markets with full strength even if a trade deal is reached.
Chicago soybean futures +0.4% to $8.69 bushel, heading for a 3.6% drop this week, the worst since the period ended May 10
Corn +0.6% to $4.04 3/4 a bushel, set for 4.7% slump this week
Wheat +0.7% to $4.79 a bushel, on track for 3.4% decline
Lean hogs -15% this week, worst plunge since July last year
Soybean meal futures in China gained 1.7% to 2,819 yuan a ton on Friday as prospects of new U.S. supplies receded