Croatia Sees 'Revival' in Political Will to Expand Euro Area
(Bloomberg) -- Political will in Europe to expand the euro area, which waned during the global financial crisis, is reviving, and Croatia plans to take advantage of it by formally announcing its intention to start the process leading to euro adoption, the country's central bank chief said.
Croatia will send a letter of intent to join the euro area's waiting room, known as ERM-2, "in the coming months" and plans to enter it in 2020, central bank Governor Boris Vujcic said in an interview at a Euromoney conference in Vienna on Tuesday. Euro candidate countries usually stay in the mechanism that limits exchange-rate moves vis-a-vis the euro for two years and, if meeting convergence criteria, adopt the euro at the end of that period.
"At the moment if anything the appetite to expand the euro area is revived," Vujcic said. "I'd say it's been less so at the height of the crisis but now it's more towards business as usual, which in a EU sense means the expansion of the euro zone."
Croatia, the most recent country to be accepted into the European Union in 2013, is the bloc's smallest member outside the euro area. Joining currency makes sense, as more than 70 percent of savings in the Adriatic nation are already in euros, Vujcic said.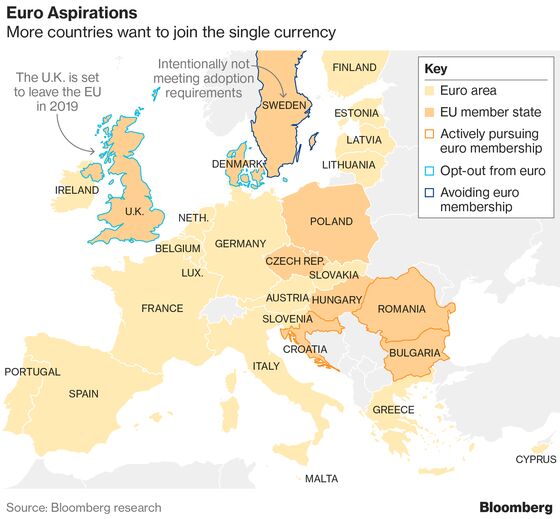 Croatia is one of the three ex-communist EU members seeking to take on the single currency. Bulgaria, which has met the formal criteria for euro adoption, received a nod in June to proceed with its bid after being forced to accept stricter conditions than past entrants. Romania expressed a renewed interest in May, three years after shelving previous plans to adopt the euro.
"In our case, the political will is also determined by the costs and benefits of joining the euro zone," Vujcic said. "And it's clear that the benefits outweigh the risks."
Croatia needs to first pass legislation to join the EU's banking union before it can join ERM-2, a new requirement that's been imposed on euro candidate countries after the financial crisis. The former Yugoslav republic has otherwise fulfilled the Maastricht criteria and its currency, the kuna, is already synced to the euro, much like it will be in ERM-2, Vujcic said.
A key issue for Croatia has been containing public debt, but even that's on a "firm downward path" at 70 percent of gross domestic product, from 86 percent in 2014, according to Vujcic. There's "strong determination" on the part of the government to keep fiscal policy in check and continue cutting public debt, he said.
Economic growth is projected at 2.7 percent this year, though downside risks may prevail. Key risks include global trade tensions, a slowdown in China and in Italy, Croatia's neighbor that's and one of its top two trading partners, Vujcic said.
"If some of these risks materialize then obviously we'll see lower growth than the projected 2.7 percent," Vujcic said. "On the positive side, we may see more investments on the back of EU funding."