Vaccine Standout Chile Battles Virus Flare-Up With More Quarantines
(Bloomberg) -- Chilean President Sebastian Pinera unveiled emergency spending measures worth $6 billion, or 2% of gross domestic product, as the government expands quarantines aimed at slowing the nation's most severe virus wave yet.
The administration will extend aid for families living under lockdowns, introduce new job subsidies, boost unemployment insurance and spend more on virus testing, Pinera said Monday night in a televised speech. Those proposals will raise total Covid spending to $18 billion from $12 billion, he said.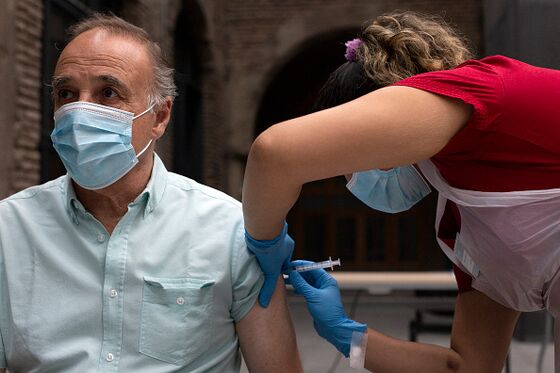 "I want to remind you that the pandemic is not over and that the next weeks will be difficult," Pinera said. "Therefore, I want to ask you all to not let your guard down."
Hours earlier, Health Ministry officials said 75% of citizens will be subject to the strictest restrictions on movement. Chile has been rocked by a resurgence of the virus, recently reporting records for the number of daily infections and patients hospitalized with the illness. The surge adds urgency to a vaccination drive that's delivered at least one shot to 29% of the population.
As of Thursday, 42 more districts nationwide will be under full lockdown, including 21 in the Santiago metropolitan area, Health Minister Enrique Paris said in a press conference earlier on Monday. In total, 13.7 million of the country's roughly 18 million inhabitants will now be in quarantine.
The government also said it would restrict requests for permits allowing people to temporarily leave their residences.
Aside from increasing spending, the government will also work to simply access to the new benefits, Pinera said in his speech. Some proposals, such as a bonus payment for middle-class families, will require congressional approval.
All people aged 50 and up will be able to receive a Covid shot by April 10, according to the president. Policy makers are sticking to their goal of vaccinating the entire target population by mid-year.
On Sunday, authorities received two million shots from Sinovac, lifting the number of doses received overall to over 13 million, according to the Health Ministry. Chile's total population stands at more than 18 million people.
The day before, Chile's Health Ministry had reported 7,084 new virus cases, the highest number of daily infections since the start of the pandemic. The seven-day moving average of infections has increased steadily since late February.
The number of occupied intensive-care beds has risen to over 3,400, with only 177 still free. Meanwhile, the number of PCR tests carried out in a day reached an all-time high of more than 76,000 on March 21.
Central bank President Mario Marcel said on Friday that quarantines will have less of a drag on the economy than last year. Segments such as commerce have adapted to new conditions, he said, adding that the services sector has had a slow recovery.
Chile is fast recovering from a 5.8% contraction in gross domestic product in 2020. Capital Economics last week lifted its Chile 2021 GDP forecast to 9% from 6.5% after data showed the fastest expansion since at least 1986. The speedy vaccination process should help the country easily outstrip larger peers like Brazil and Mexico, according to analysts surveyed by Bloomberg.