Kavanaugh Is Victim of #MeToo Fervor, Kellyanne Conway Says
(Bloomberg) -- The accusations of sexual misconduct lodged against Supreme Court nominee Brett Kavanaugh are part of a "vast left-wing conspiracy" and are being fueled by women's"pent up" frustration, White House counselor Kellyanne Conway said.
"I know there's pent up demand for women to get their day, women who have been sexually harassed and sexually assaulted, and I personally am very aggrieved for all of them," Conway said Monday during an appearance on "CBS This Morning."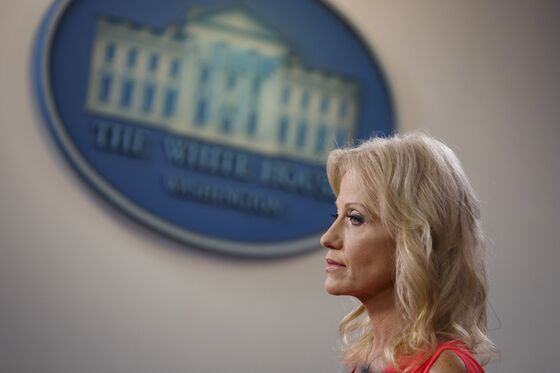 "I just don't think one man's shoulders should bear decades of the #metoo movement," she said, using the popular name for the wave of women who have shared stories of being victims of sexual assault and misconduct, particularly in the workplace.
Kavanaugh's nomination was already in a perilous state ahead of a hearing planned for Thursday on an allegation by California professor Christine Blasey Ford that he sexually assaulted her at a high school party three decades ago. Kavanaugh, who has denied that claim, also is scheduled to testify.
The New Yorker reported Sunday that Democrats in the Senate are investigating a new accusation stemming from Kavanuagh's time at Yale University involving a fellow student, Deborah Ramirez, now 53. Conway during her interview urged Ramirez to contact the Senate Judiciary Committee to testify about that accusation.
Senator Dianne Feinstein, the Judiciary panel's highest-ranking Democrat, said after the latest allegation that the confirmation process should be put on hold until the claims are fully vetted. When asked about that Monday, Conway said that "it's been put on hold for weeks now" because Feinstein waited until late in the process to raise Ford's allegations, despite previously being aware of them. Ford had written a letter to a California lawmaker about the claim months ago that was passed to Feinstein, but had requested anonymity, and Feinstein said she was trying to honor that.
Separately, Michael Avenatti, the lawyer best known for representing adult film star Stephanie Clifford, who says she had an affair with Donald Trump before he was elected president, said on Twitter that he represents a woman "with credible information regarding Judge Kavanaugh." Avenatti, who has said he's considering running for president as a Democrat, said on Twitter his client is not Ramirez.