Could Britain Have an Election in 2018? It's Not Impossible
Could Britain, which had referendums in 2014 and 2016 and elections in 2015 and 2017, have another vote in 2018? Politicians laugh nervously at the idea, but know that deadlock over Brexit makes it possible.
The pound fell to its lowest level this year on Monday amid speculation another snap vote could be called after the Sunday Times said some Conservative lawmakers are privately preparing for one.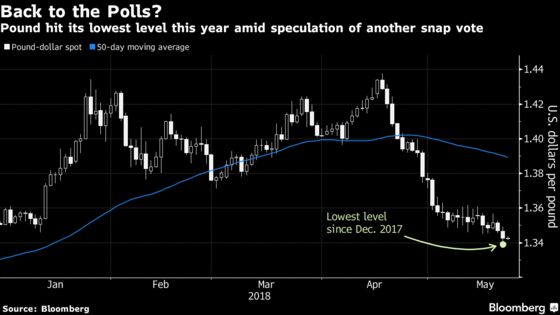 The argument is that Prime Minister Theresa May will be unable to find a way to navigate between those in her party who want Britain to leave the European Union's customs union and the majority in Parliament that wants the opposite. Although she's set the different factions in her Cabinet to work on finding a compromise, language from the two sides is hardening.
Philip Cowley, professor of politics at Queen Mary, University of London, and author of a series of election histories, put the chance of an election at around one in four.
If the unstoppable force of Conservatives pushing for Britain to leave the customs union collides with the immovable object of a parliamentary majority for staying in, anything could happen, he said.
"There's going to come a point where it's all going to unravel for someone," he said. "But I can't really tell you who it's going to unravel for."
Under the scenario outlined in the Sunday Times, May would commit one compromise too far, and pro-Brexit Tories would finally lose patience and replace her. The problem with this is that it's not clear they have the numbers to do the job, and, even if they did, a switch of Conservative leader wouldn't change the fundamental parliamentary arithmetic.
That's why an election is still far from a base case for investors, according to Credit Agricole head of currency strategy Valentin Marinov.
"For most clients we talk to, the Brexit process is now too advanced for anyone inside the Tory party to consider disrupting the process by challenging May's leadership," he said.
Would an Election Fix it?
There's a train of thought among some Tories that an election might be the way through the problem. Perhaps it would be a moment of triumph in which May -- or a pro-Brexit replacement -- would seize control of the agenda, inviting the public to give her a mandate to take Britain out of the customs union.
Underpinning this scenario is a belief that the public wouldn't vote instead for the opposition Labour Party under its leader Jeremy Corbyn. This isn't a view shared by everyone in the Conservative Party.
After all, many lawmakers got their fingers burned last year when Corbyn won 40 percent of the vote and came close to preventing May from forming a government.
That's why an alternative election scenario emerges. One in which the Conservatives crash into a snap vote by accident, either because May is unable to get any kind of Brexit deal through Parliament -- or because she's incapable of getting Parliament to support a "no-deal" Brexit.
In both those versions, the prime minister loses a confidence vote in the House of Commons and it's off to the polls.
This is a scenario that many in Labour see as likely. It would mean the Tories fighting an election they hadn't planned for and requesting support for a Brexit program over which they're divided. Corbyn would simply be asking the public to put the Conservatives out of their misery as Labour would only need to win a handful of seats to prevent the Conservatives from taking office.
In terms of Brexit, this would mean the softest possible kind: Corbyn's path to a majority would be via staying in the customs union and possibly in the single market, too.
And that is the threat that May is holding over pro-Brexit Tories: The choice isn't between her Brexit and the Brexit of their dreams. It's between Theresa May's Brexit and Jeremy Corbyn's.
That may be what was on Foreign Secretary Boris Johnson's mind on Monday when he referred to a BBC interview about last year's snap election in which "Brenda," from Bristol, western England, was clear how she felt. "Not another one. Oh, for God's sake. Honestly, I can't stand this. There's too much politics going on at the moment," she said.
"I'm with Brenda on this one," Johnson told reporters in Buenos Aires.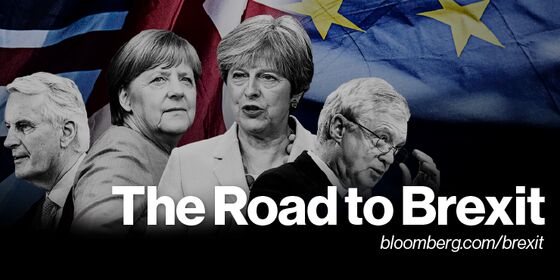 "We had a general election in June last year, which followed hard on the heels of a referendum, which itself followed hard on the heels of an election in 2015," he said. "I think the British public deserve a break from politicians."