Coronavirus Is Killing More People in Poorest Parts of U.K.
The coronavirus is killing people in the poorest parts of the U.K. at more than twice the rate as elsewhere, according to data compiled by the Office for National Statistics.
The virus has accounted for more than 40% of deaths in London since the start of March, with the boroughs of Newham, Brent and Hackney, which have large areas of deprivation, worst affected by the pandemic.
"People living in more deprived areas have experienced Covid-19 mortality rates more than double those living in less deprived areas," Nick Stripe, head of health analysis at the ONS, said in a statement on Friday. "General mortality rates are normally higher in more deprived areas, but so far Covid-19 appears to be taking them higher still."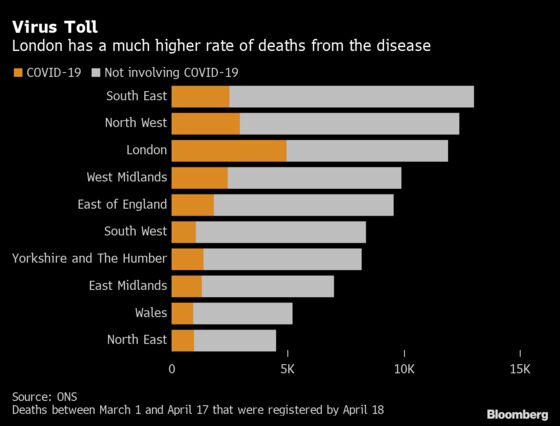 Britain faces a major debate about how to kick-start the economy once the pandemic passes. The outcome of the debate on fiscal policy in the longer term will have a potentially huge impact on deprivation levels as well as health outcomes across the country.
Workers who have are keeping the health system and food supply chain going were among those who bore the brunt of spending cutbacks after the financial crisis. On Thursday, Prime Minister Boris Johnson said that austerity will not be part of their approach to the economy going forward.
London had the highest age-standardized mortality rate in England and Wales, at 85.7 deaths per 100,000 persons involving Covid-19. That was more than double the next highest rate, which was 43.2 deaths per 100,000 population in the West Midlands.