U.S. Citizen Heads to White House After Release by Venezuela
(Bloomberg) -- An American citizen imprisoned in Venezuela since 2016 is on a plane back to Washington, where he'll meet with President Donald Trump, after being released in response to pressure from the U.S. government and members of Congress.
"Good news about the release of the American hostage from Venezuela," Trump said on Twitter. "Looking forward to seeing Joshua Holt this evening in the White House. The great people of Utah are Celebrating!"
Local media showed images of Holt and his wife with Republican Senator Bob Corker in Venezuela before the three boarded a plane bound for the U.S.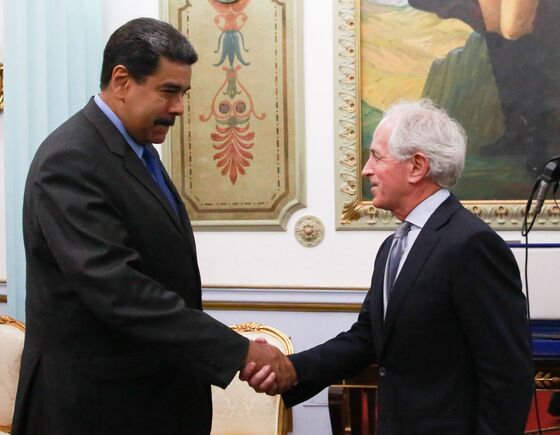 Holt's release came less than a day after Corker, chairman of the Senate Foreign Relations Committee, met with Venezuelan President Nicolas Maduro in Caracas.
Maduro shook hands with Corker in images broadcast on state TV from the presidential palace, which said the two were "strengthening international relationships," without offering more details.
Holt, 26, a former Mormon missionary, was arrested about 18 months ago and accused of stockpiling a cache of weapons, including assault rifles and grenades, after he traveled to Caracas to marry his Venezuelan girlfriend. U.S. officials say the charges against Holt were politically motivated.
The release happened even with U.S.-Venezuela relations at a low ebb. Maduro's autocratic regime faces sanctions on its financial sector, moves meant to punish the government without further hurting a hungry and downtrodden population. Washington has considered an embargo on Venezuela's oil industry as well.
"We hope this gesture strengthens dialogue and respect toward our independence," Venezuela's Information Minister Jorge Rodriguez said of Holt's release in comments broadcast on state television.
Republican Senator Orrin Hatch of Utah said in a statement that Corker had been "pivotal" in the effort to secure Holt's release, although the Tennessee lawmaker downplayed his role as "small."
Saturday's outcome, Hatch said, resulted from work across two presidential administrations and with diplomatic contacts, ambassadors and Maduro himself. "I could not be more honored to be able to reunite Josh with his sweet, long-suffering family in Riverton," he said.
Corker, in a statement, thanked Hatch and the president, as well as Caleb McCarry, a member of the Foreign Relations Committee staff who traveled with him to Caracas. Corker started talks with Venezuela's government earlier this year at Hatch's request, he said.
After being sworn in for a new six-year term this week -- in a vote condemned by the U.S. as a "sham" after the main opposition parties boycotted it -- Maduro called for the release of some detained prisoners, without naming anyone specifically.
There are over 368 political prisoners detained in Venezuela, according to the human rights organization Foro Penal, or Penal Forum.
A day after Maduro's swearing-in, the U.S. prohibited purchases of debt owed to the Venezuelan government, including to its state-run oil company. Maduro responded by expelling the U.S. Embassy's charge d'affaires and his deputy from Venezuela.
Holt, who'd been held in the El Helicoide intelligence agency prison, published a Facebook video earlier this month pleading for help and claiming his life was in danger.
State Department spokeswoman Heather Nauert said this month that a senior department official had urged Holt's release on humanitarian grounds.