Britain's Richest Fear Corbyn More Than Brexit
(Bloomberg) -- Standing on the stage in front of hordes of cheering activists, the man who wants to be Britain's next prime minister had a blunt message for the country's wealthy.
"The very richest in our society have had tax breaks, giveaways, and tax havens," Labour leader Jeremy Corbyn said at a music and arts festival running alongside his party's annual conference at the weekend. "I tell you what, they're on borrowed time."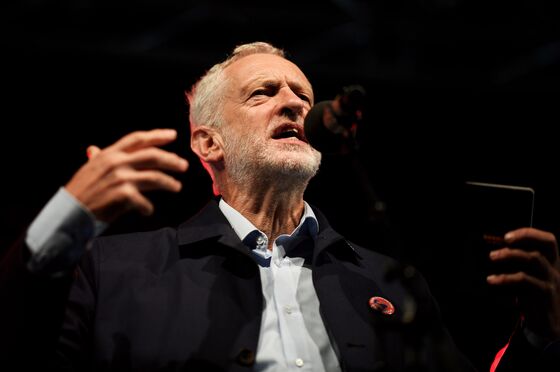 Many among the ranks of Britain's top 1 percent aren't waiting to find out. What might be catnip to ardent Corbyn supporters as they agitate for another shot at power has turned into a bigger wildcard for the U.K.'s super-rich than the all-consuming and painful divorce from the European Union.
Millionaires are more concerned about the prospect of the most socialist government since the 1970s under Corbyn than anything else, according to their lawyers and tax advisers. Contingency planning for a Labour government has now surpassed any for Brexit, the advisers say.
Some individuals are preparing to leave the country, and not just foreign nationals. One London lawyer, who didn't want to be identified when discussing private matters, said two of his wealthy U.K.-born clients were in the process of relocating specifically because of Corbyn. They started making plans after the 2017 Labour manifesto turned the anti-wealth rhetoric into prospective policy, the person said.
"It's an increasing conversation for us with clients and some have got active plans to move if he's elected," said Patrick Harney, head of the private-client business at London law firm Forsters. "There have been no signs that Brexit would alter much for high-net-worth individuals, whereas we know a Corbyn government would bring changes."
It all comes down to Corbyn's mantra to turn the country into one that "works for the many, not just the privileged few." With Labour and Prime Minister Theresa May's governing Conservatives neck and neck in the polls, the avowed socialist is pressing for another election, with his party divided on whether there should be a re-run of the June 2016 Brexit referendum.
Labour wants to nationalize some industries, including the railways. The party's Treasury spokesman, John McDonnell, this week announced a plan for companies with at least 250 employees to put as much as 10 percent of their equity into a trust to pay dividends to workers. He added that anything in excess of 500 pounds ($659) a year per employee would go to the government. May attacked the plan, telling reporters that "in effect it would be both a tax on companies and a tax on people.'' 
The wealthy will now be watching closely as Corbyn takes to the stage on Wednesday for his speech at the Labour Party's conference in the city of Liverpool. He's already signaled rises in income tax for anyone earning more than 80,000 pounds, corporate tax, and the introduction of a possible wealth tax, if elected.
Corbyn will lambaste "greed-is-good, deregulated financial capitalism, lauded for a generation as the only way to run a modern economy" and accuse the government of not learning the lessons of the 2008 financial crisis, according to excerpts of his speech.  
"The political and corporate establishment strained every sinew to bail out and prop up the system that led to the crash," he will tell delegates, illustrating his point with attacks on high corporate pay and tax avoidance by the rich.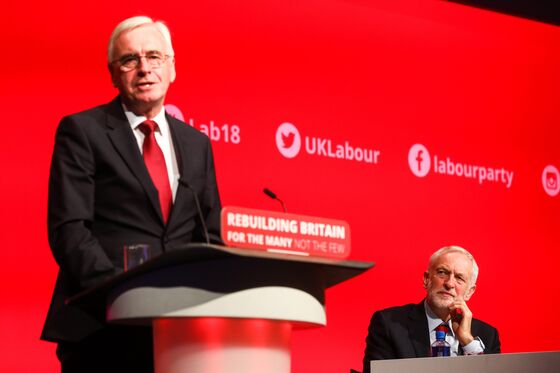 McDonnell, Corbyn's long-time ally and the man who would be chancellor of the exchequer in a Labour government, said the intention isn't to scare off wealthy individuals, but to get them to commit to the prosperity of the country.
"We're giving them a long term investment strategy in which they'll get a good rate of return," McDonnell said in an interview on Monday. "We won't be ripped off anymore. All the plans we've put forward are based on recommendations of the Confederation of British Industry and others for the long-term investment that we need."
A lot has to happen before Labour gets a tilt at power. An election isn't due until 2022, though there were reports at the weekend of murmurings among some Conservatives about a second snap vote. In June last year, May lost her parliamentary majority as Corbyn confounded his critics and the polls to help Labour take its biggest share of the ballot since 2001.
No one knows what exactly Corbyn will do. While taxes stabilized at 40 percent for the highest earners under Labour in the 2000s, Corbyn has always supported making the rich pay more.
They're unlikely to go back to anywhere near the 83 percent top rate under Labour in the 1970s, yet the party is scouring where to raise money and halt government spending cuts. Only last month, he proposed a windfall tax on technology companies to prevent "a few tech giants and unaccountable billionaires" controlling public debate.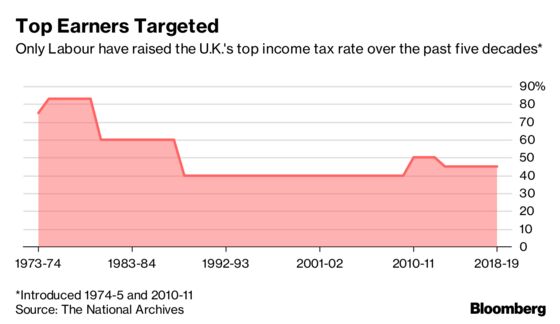 The potential exodus by wealthy British citizens came into focus last month when it emerged Jim Ratcliffe, founder of global chemicals manufacturer Ineos AG and the U.K.'s richest person, was moving to Monaco along with two other billionaire Ineos directors. The city-state is already home to British natives such as Philip Green, whose family owns the U.K.'s largest clothing company, and Formula One racing driver Lewis Hamilton.
Other popular destinations include the U.K.'s nearby crown dependencies of Jersey and Guernsey, which don't apply capital gains or inheritance tax. Spain and Portugal, meanwhile, offer a flat tax rate on income earned in their jurisdiction, drawing more than 10,000 foreigners so far to the Iberian Peninsula.
Israel and Italy have also increased in popularity since introducing 10-year "tax holidays." Italy's populist government has mooted the tax break for both Italians and foreigners moving to Italy's ailing southern regions. One London lawyer, who didn't want to be identified talking about clients, said his firm was advising a number of high-net-worth individuals who were planning to move from the U.S. to the U.K. and are now looking at Italy instead.
Then there's Israel, which has allowed overseas citizens to avoid taxes since 2008. The country is increasingly attractive to wealthy individuals in the U.K.'s Jewish community in light of allegations of anti-Semitism within Labour that engulfed Corbyn over the summer, according to two London lawyers.
In an interview with the BBC at the weekend, Corbyn responded to the suggestion that some Jewish supporters are preparing to migrate should he become prime minister. His message to them would be "stay in this country, let's work together in this country," he said.
Wealth planning by individuals is common when there's a prospect of a Labour government, according to advisers. It's reminiscent of the time before Prime Minister Tony Blair won the first of his three straight elections in 1997. Concerns were ultimately allayed as the party adopted a more business-friendly approach.
They returned quickly after the Labour Party conference last year when McDonnell said the party was preparing for a possible run on the pound if it won power, raising the possibility of capital controls -- legal restrictions on the movement of money -- if Labour was elected. Those worries have resurfaced in recent months as Brexit negotiations stalled.
"The Labour Party manifesto was, in my view, the thin end of a socialist wedge," said Terry Scuoler, former chief executive of the Engineering Employers' Federation, an industry lobby group that meet regularly with government ministers. "Wealthy entrepreneurs won't want to stick around in an environment of rising taxes and anti-business sentiment."