Contract Killing Looms Over Slovakia's Election
(Bloomberg) -- Two years ago, Slovakia was a steady member of the European mainstream and a pro-Brussels leadership in stark contrast to its neighbors. Then the brazen contract killing of a reporter investigating political ties to organized crime sparked the biggest protests in decades and brought down long-serving populist Robert Fico. 
Slovakia now heads into its most unpredictable election in recent memory with corruption the dominant theme, something that's one all too familiar in former communist Europe and even Malta nowadays. The question is whether Fico's party, in government for 12 of the past 14 years, will pay the price.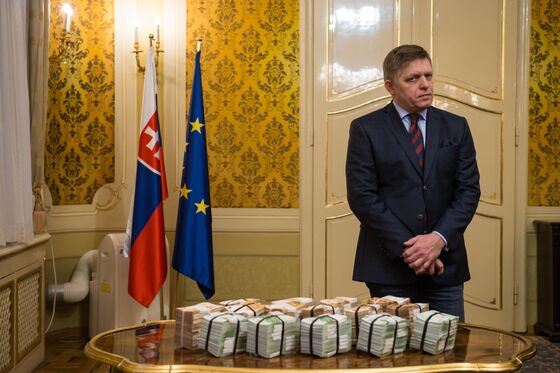 The vote on Saturday pits the governing Smer party against a loose alliance of opponents standing on an anti-corruption platform and the latest polls suggest a close-run contest. Also in the mix is a far-right group, some of whose members have lauded the country's fascist state from World War II, that's gunning to hold the balance of power.
The risk for Europe is that Slovakia now too will succumb to the forces of discontentment that are disrupting the continent's politics from Brexit Britain to Italy and even Germany. As leaders clash over the next budget, the last thing the European Union needs is for the country—a euro member—to follow Poland and Hungary and elect a less compliant leadership.
"The very direction of the country is at stake," said Michal Vasecka, the head of the Bratislava Policy Institute think tank. "These elections will define whether Slovakia is a European country with high standards not only in economic areas but also in broadly defined human rights."
The watershed in Slovak politics stems from the murder of journalist Jan Kuciak and his fiancée, Martina Kusnirova. The couple, both 27, were shot dead at their home about 65 kilometers (40 miles) from Bratislava in February 2018. While the killings and ensuing protests led to Fico's resignation, his Smer party stayed in power under his acolyte Peter Pellegrini.
Businessman Marian Kocner was charged with ordering the hit on Kuciak and the murder trial, which started in December, has gripped Slovak households and overshadowed the election campaign. As special anti-graft prosecutors zeroed in on Kocner, they unearthed a web of links between the mafia and politicians, including a former chief prosecutor.
The trial was adjourned until next month. Meanwhile, Kocner was sentenced on Thursday to 19 years in prison in a case linked to forged claims against a television channel.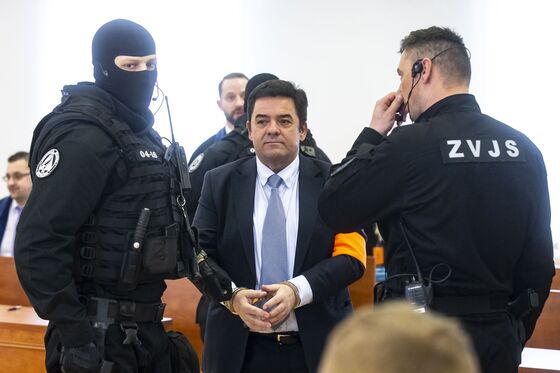 "The murder has been misused for political purposes," Fico, 55, said this week after Smer lost ground in the polls. "If the murder didn't happen, if it wasn't misused at home and abroad, I would be standing here as the prime minister with 30% support."
That's no longer the case. While Smer is still in the lead, its popularity has shrunk by half as opponents challenge the government over corruption. A survey by pollster Focus put Smer on 17% with a group of independents called Ordinary People making gains. The far-right People's Party was third. But that was before the two-week blackout kicked in.
Should Smer fail to form a government, the question is whether anyone else can. Opponents are united against graft, yet they include everyone from the socially conservative Ordinary People to the anti-immigrant We Are Family and Progressive Slovakia, the center-left liberals dedicated to keeping the country close to Brussels.
Igor Matovic, a successful entrepreneur who built and later sold a network of regional media, has emerged as the surprise candidate for prime minister as leader of Ordinary People. He took social media by storm with videos that included a short report from Cannes, France, where he stood in front of a villa that belongs to Fico's former finance minister. He said it should be confiscated.
Yet Matovic spent years squabbling with all other opposition forces, raising doubts he can be a unifying force should Smer be beaten. With just days to go before the poll, he sought to strike a conciliatory tone.
"Nobody will dare to waste this opportunity for a change," he said in an interview. An agreement within the opposition "isn't a problem," he said.
To stay in power, Fico would need to team up with the People's Party and at least one other party. He has ruled out doing a deal with the far-right group, though has needed their votes on occasions to pass legislation in parliament.
During the campaign, the People's Party has sought to distance itself from some of its extremist elements to appeal to a wider electorate, though retains its mantra that Slovakia takes "no commands from Brussels or Washington."
The result is that anything could happen, according to Martin Slosiarik, director of Focus Agency pollster in Bratislava. "Change is the important word now," he said. "This vote is about deposing Smer."