Contender to Lead Merkel's Party Opens Door to Soeder Candidacy
(Bloomberg) -- Armin Laschet, one of three contenders to head Angela Merkel's Christian Democratic Union, said the next chancellor candidate may come from the party's Bavarian ally.
Speaking at a presentation of a biography of CSU chief Markus Soeder, Laschet -- the state premier of North Rhine-Westphalia -- opened the door to his Bavarian counterpart becoming the conservative bloc's chancellor candidate. That would represent a rare break with tradition.
"A CDU leader should have enough respect for the sister party to say that in principle both options would be possible," Laschet said Friday in Berlin. "If a CDU leader would exclude this possibility, then this wouldn't be the fairness which we will need."
It's the clearest indication that Laschet would be willing to concede the candidacy to Soeder if he gets elected as CDU leader. The conservative chancellor candidate typically comes from the bigger party. There have been only two exceptions in the post-war era, and both times the candidate from the Christian Social Union lost.
The CDU will elect its next party leader at an online convention on Jan. 16. Former caucus leader Friedrich Merz -- Laschet's main opponent -- has made clear that he would run for chancellor. Norbert Roettgen -- head of the parliament's foreign affairs committee -- has said that he would consider a CSU candidate.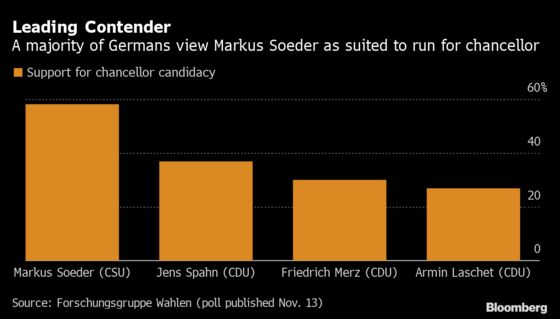 Laschet's comments add to signs of growing support for a Soeder candidacy among senior CDU officials. Wolfgang Schaeuble, who preceded Merkel as party leader and is now the president of the Bundestag, is also open to the idea.
"Any CDU leader must also be suitable as a chancellor candidate and chancellor -- and has to want it -- but it could be someone else," Schaeuble, a former finance minister, said in an interview with the Frankfurter Allgemeine Zeitung published Friday, without mentioning Soeder by name.
The decision on a candidate to replace Merkel as German leader should be taken between Easter and the end of May, he told the paper. Delaying it until then would avoid whoever is chosen having to assert themselves while Merkel is still in charge, he said, adding that the chancellor is "so strong that room for political leadership" in the CDU/CSU is limited as long as she's around.
Laschet said the bloc, which has the strongest voter support in recent polls, will decide about their joint candidate after state elections in Baden-Wurttemberg and Rhineland-Palatinate on March 14. The candidate "who has the best chances to win" will be picked, he said, but noted that this wouldn't only be based on public opinion.
"Polls move back and forth," said Laschet, who trails all main contenders including Health Minister Jens Spahn, who's not officially running. "Markus Soeder once had the worst polls in Germany, now he has the best."