Conte Dodges Deficit Demands and Vows to Revolutionize Italy 
(Bloomberg) -- Prime Minister Giuseppe Conte pledged to keep "revolutionizing" Italy after a working dinner with European Commission President Jean-Claude Juncker failed to break a long-running standoff over the populist government's push to follow through on expensive election promises.
At a Brexit summit of European Union leaders in Brussels Sunday, Conte clearly had other concerns preying on his mind. The premier, a Florence law professor with no previous political experience, told reporters after the summit that he discussed the budget on the meeting's sidelines with leaders including Angela Merkel and Emmanuel Macron.
"There's a good atmosphere, mutual trust," Conte said, adding he may meet his populist deputies Matteo Salvini of the anti-migration League and Luigi Di Maio of the anti-establishment Five Star Movement on the budget as early as Sunday evening. "We're confident we can complete the process to our mutual satisfaction."
Asked if he would discuss lowering a 2.4 percent deficit target for next year with Salvini and Di Maio, Conte replied: "We always discuss the reforms and what is needed to carry out the promises we have made."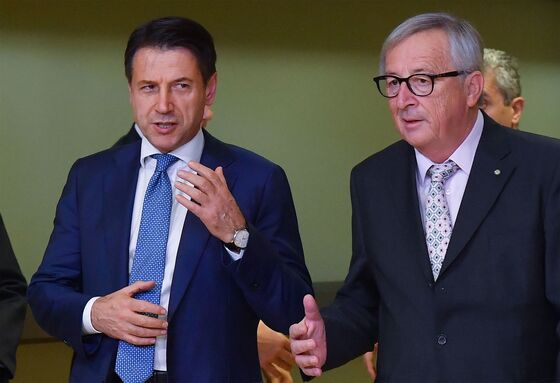 Under pressure from the euro-skeptic Salvini and Di Maio, Conte held up on arrival at the Brexit summit a thick dossier which he gave Juncker at the dinner on Saturday evening, entitled "A new path for a better future. Italy's new strategy for social and economic growth."
"This is what we talked about, I'm giving you a preview," Conte said. "We talked about these, in five months we are revolutionizing the country and we will continue to do so." His office said the report details past reforms and those due in coming weeks, focusing on a plan to boost investments.
What irks the commission and investors most however are the targets for the 2.4 percent deficit and 1.5 percent economic growth next year, amid concern about the impact on Italy's debt mountain, the biggest in the euro area in real terms. Salvini and Di Maio have refused to budge on these. Conte said budget targets were not discussed with Juncker.
At the dinner Juncker said spending cuts of 6 billion euros ($6.8 billion) to 7 billion euros may be enough to trim the 2019 deficit, newspaper La Repubblica reported. Juncker also called for Salvini and Di Maio to stop their verbal attacks on the European Union, the paper said.
Conte may offer to postpone the start of a "citizen's income" for the poor, a landmark Five Star pledge, and a reform to lower the retirement age, a League promise, to April in order to recover as much as 5 billion euros that would be used for investments, newspaper Il Sole 24 Ore said.
Just how limited is Conte's room for maneuver was underlined by Salvini framing the working dinner from afar. As the dinner began, Salvini posted a tweet with a tough message for Brussels: "I demand RESPECT for the 60 million Italians who, with 5 billion given as a gift every year to Europe, don't want INSULTS, they want the possibility to study, work, retire. They sent me into government and I answer to them, and I don't retreat."
After the dinner ended, Salvini stated in a message sent by his office: "Good Conte. Dialogue and common sense in Italy's interest, no step backwards but a will to properly assess timing and numbers for spending and investments."
Juncker sounded an affectionate note. "We are not in a war with Italy," Juncker said Sunday morning. He added, speaking in Italian: "Ti amo Italia (I love you Italy.)" Juncker said he and Conte had agreed to keep in "permanent contact" to seek to reduce the differences between the two sides.
The commission said this month that Italy wasn't respecting EU rules on borrowing, which may lead to a so-called excessive deficit procedure. That could involve fines of 0.2 percent of Italy's gross domestic product, increasing to 0.5 percent if Rome doesn't amend its budget.