Italy's Conte Takes Budget to Brussels Yet Deadlock Prevails
(Bloomberg) -- Italian Prime Minister Giuseppe Conte attempted to sell his government's budget to European Commission leaders at a working dinner in Brussels, standing firm on key reforms and saying he trusted that continued dialogue could help prevent possible fines.
Under pressure from populist deputies who've left him with little room for maneuver, Conte met Saturday night with Jean-Claude Juncker, head of the European Union's executive arm, at the commission's Berlaymont headquarters.
"I trust that dialogue can lead to avoiding the procedure" for sanctions against Italy, Conte told reporters after the two-and-a-half hour meeting. "I'm always ambitious."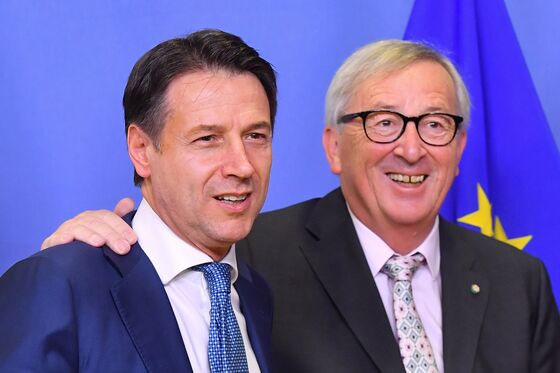 "Italy has fundamentals which are so solid that I absolutely wouldn't talk of a Greece-style risk," Conte replied when asked about such a scenario. The premier said budget targets weren't discussed, and added: "Obviously I didn't talk of giving up on the reforms which are key to our government action and our economic policy."
Italy is seen as perhaps the current gravest risk to Europe's financial stability, and Salvini as Italy's loudest opponent of oversight from Brussels. But it's unclear how far either side, each with much to lose, is willing to push its fight.
Behind the quest for dialogue is a standoff over Italy's 2019 spending spree that's whipsawed financial markets and prompted the commission to take the first step toward possible fines. Concerns are focused on the impact of a 2.4 percent budget deficit target for next year on Italy's debt, the biggest in the euro area in real terms.
Supporting Conte at the dinner was Finance Minister Giovanni Tria, while Juncker was flanked by commissioners Valdis Dombrovskis and Pierre Moscovici.
Absent, however, were Italy's populist leaders -- deputy premiers Matteo Salvini of the anti-migration League party, and Luigi Di Maio of the anti-establishment Five Star Movement. Both have vowed they won't back down on core parts of the budget, including expensive promises on welfare benefits, pension reform and tax cuts, while saying they're willing to have a dialogue with the commission.
Enjoying a steady climb in public opinion polls, Salvini told Conte in a telephone call that he would bring down the government if the deficit target was changed, the La Repubblica newspaper reported earlier Saturday. Similarly, Di Maio has ruled out shrinking the number of people who'd benefit from a "citizen's income" planned for the poor, as well as a lower retirement age.
As the dinner began, Salvini posted a tweet with a tough message for Brussels: "I demand RESPECT for the 60 million Italians who, with 5 billion given as a gift every year to Europe, don't want INSULTS, they want the possibility to study, work, retire. They sent me into government and I answer to them, and I don't retreat."
The commission said earlier this week that Italy wasn't respecting EU rules on borrowing, which may lead to a so-called excessive deficit procedure. That could involve fines of 0.2 percent of Italy's gross domestic product, increasing to 0.5 percent if Rome doesn't amend its budget.
While the EU has started such procedures for other countries in the past, it's never done so on the basis of excessive debt. It's also never actually gone as far as fining any country. EU governments would get several opportunities to weigh in, and Italy could be given as much as six months more to comply once the process starts.
Conte warned before flying to Brussels on Saturday that his government would stick to the main reforms in the budget. Asked at the Rome Med foreign affairs conference whether his administration will dilute welfare benefits and pension measures, Conte told reporters: "We have spoken of adjustments, but no one has ever considered renouncing the defining reforms of this government."
Salvini's League party rose to 36.2 percent in voter intentions in November, the fourth straight poll showing an increase, according to an Ipsos survey in newspaper Corriere della Sera. Five Star, which emerged as the biggest single party in March's general election, slipped to 27.7 percent this month, from 28.7 percent in October.