Conte's Gambit May Return Him to Power in Italy, or Cut Him Off
(Bloomberg) -- The resignation of Italian Prime Minister Giuseppe Conte has sparked a fresh round of back-room plotting and negotiating as the pandemic rages and the economy tanks.
The biggest question is whether he will get back in the saddle. Conte is a survivor, but he has no political party of his own as he tries to recruit a new, broader coalition anchored around himself. He offers investors stability, and that's an outcome that bond traders have craved.
In the meantime, parliament and government activity are at a near standstill, raising the sense of urgency. Any coalition Conte might throw together would have to include the two main forces in his last left-leaning government: the Five Star Movement and the Democratic Party. Neither has any interest in early elections, so Conte has that in his favor.
"The widespread suffering of citizens, the deep social unease and economic difficulties require a clear perspective and a government that has a broader and more stable majority," Conte said in a Facebook post Tuesday. A new government must be a "clearly pro-Europe alliance," able to approve needed reforms, he said.
In the last four years President Sergio Mattarella has already asked Conte twice to form a government. With official consultations with parties starting Wednesday and ending late Friday, it's now up to the 79-year-old head of state to confer again with myriad leaders across a complex political spectrum. He's also retiring next year.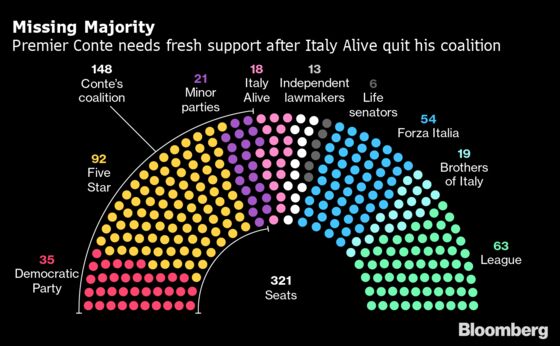 Polls show that the 56-year-old Conte is one of Italy's most popular figures, though he enters the race weakened after ex-Premier Matteo Renzi of the Italy Alive party pulled the plug on his second government. Renzi, a frequent critic of Conte, could elbow him aside to propel someone else into power, according to officials who asked not to be named on confidential talks.
With the European Union's recovery package at stake, EU Budget Commissioner Johannes Hahn urged Italian politicians to end the turmoil quickly. "Think about the good of Italian citizens, not about cheap political games," Hahn told daily La Stampa. "If politicians were distracted by an election campaign, they could not concentrate on what's necessary for the country."
Below are the three likeliest scenarios, according to officials close to the talks:
Conte comes back to lead his third government in four years. He can count on Five Star and the Democrats, who've pledged to support him, but those two parties alone won't be enough. Conte lost his outright majority in the Senate as soon as Renzi's party pulled out, and he'll need help if he's to replace it.
The Conte camp is therefore attempting to set up a new parliamentary grouping with more than a dozen centrists, unaffiliated senators, members of Silvio Berlusconi's Forza Italia party and some lawmakers from Italy Alive. Still to be resolved: how much power this group would have and what jobs they'd get.
Conte's preference is for several key ministers to be reappointed if he succeeds in his comeback bid. That would include Finance Minister Roberto Gualtieri and Health Minister Roberto Speranza. Investors would favor this sort of smooth transition to a still pro-European government.
But this step is far from assured. One wing of the Democrats is unenthusiastic about Conte and wants to mend fences with Renzi. Five Star is a chaotic jumble of rival factions.
Conte may be putting out feelers to Renzi's group to join a future government, Italian media reported Wednesday. Though Conte and his supporters had said they would never work with the ex-premier again, they are concerned they won't be able to assemble a working majority without him, newspapers including la Repubblica reported.
If Conte fails to drum up enough support, or if Renzi succeeds in blocking him, a new figure could emerge to head a similar alliance. So far, there are three people in the running, all Democrats: party leader Nicola Zingaretti, Culture Minister Dario Franceschini and Defense Minister Lorenzo Guerini.
Alternatively, the next administration could be a so-called government of national unity -- one that would leave right-wing euroskeptics shut out.
It could be headed by a widely respected figure like ex-European Central Bank chief Mario Draghi, at the helm of a clearly pro-Europe cabinet. The majority could be expanded to include all of Berlusconi's party if the numbers add up.
Still, this is an outcome fraught with obstacles. The center-right includes the ailing Berlusconi's Forza Italia, which is divided, and many in Five Star strongly oppose working with establishment figures.
This remains only a remote possibility. Conte's backers don't want to see a vote usher in the opposition led by Matteo Salvini of the anti-migrant League. And a Salvini victory would give him a decisive say in picking the next president.
There is also the fact that there will be fewer seats in play in the next election after a 2020 constitutional reform downsized both houses of parliament.
The virus emergency and the country's crippled economy also suggest that elections would be a last resort for many in the establishment.
The window for a vote is gradually closing. Mattarella's presidency ends in February 2022 and by law he cannot dissolve parliament in the last six months of his term. Elections would need to happen before August and the next scheduled vote is set for no later than May of 2023.