Italy Premier Closing In on Majority as Senate Support Grows
(Bloomberg) -- A group of senators is set to switch allegiance to back Prime Minister Giuseppe Conte's governing coalition, potentially giving him an outright majority in the upper house, according to people familiar with the talks.
The lawmakers plan to abstain in a crucial confidence vote later on Tuesday, lowering the threshold needed by the premier to win, the people said, asking not to be named discussing private conversations. They could then give Conte their backing when the Senate votes on fresh deficit spending Wednesday.
The group aims to give Conte enough support to stay in power, while signaling their support is not unconditional, in order to maintain their leverage, the people said. Conte could still clinch an outright majority on Tuesday, which would strengthen his hand. The result of the Senate confidence vote is due at about 8:30 p.m. local time.
Italian bonds rallied on the news, sending 10-year bond yields down four basis points to 0.59%.
The new group of supporters comes after seven senators pledged to back Conte earlier Tuesday during a debate in the upper house. Conte is seeking an outright majority after a junior party led by ex-Premier Matteo Renzi abandoned the government following a clash over European Union recovery funds.
Renzi kept senators guessing on whether he'd abstain, firing a virulent broadside against Conte whom he dismissed as provincial, inexperienced and weak. Renzi also accused him of touting government jobs to save his premiership.
"You cannot change ideas to hold on to your job, have the strength to do something else, give the country a meaningful message," Renzi said.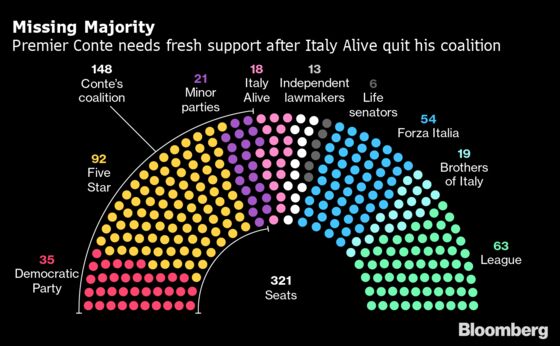 Fresh from winning a majority in the lower house Monday night, Conte launched a charm offensive with his speech in the Senate on Tuesday morning. He appealed to pro-European centrists, unaffiliated lawmakers and senators from Renzi's Italy Alive party in promising to change the electoral law, relinquish control of intelligence agencies and reassign some cabinet posts.
"We ask all political and parliamentary forces which have at heart the destiny of Italy to help us start again as quickly as possible," Conte said. "Help us to heal the wound which the crisis has created in the pact of trust with citizens."
Read more: Conte's Chameleon Act Gives Him Staying Power in Italian Crisis
Italy, the original European epicenter of the coronavirus outbreak, risks being governed by a fragile executive just as it's battling a worsening pandemic and a recession. The country has also taken over the presidency of the Group of 20. Political maneuvering will likely dominate the next few weeks as Conte, who once led a euroskeptic cabinet, seeks to firm up the support of new backers for his cabinet.
Still, Conte's improving fortunes further reduce the risk of snap elections, which would be unlikely even in the case of a surprise defeat for the premier.
In the lower house, Conte won support from 321 of the 629 lawmakers. Italy Alive's senators have pledged to abstain in the Tuesday confidence measure rather than cast votes against the government.