Conte Apologizes to Italians and Hints at a Faster Reopening
Prime minister Giuseppe Conte took to Facebook to publicly say sorry to Italians for delays to their financial aid and said he was open to a further easing of lockdown measures.
He wrote out excerpts from the several letters sent to him, naming individual citizens and trying to reassure them that businesses may be able to open earlier than forecast if rules are followed and the contagion curve declines.
He also personally apologized "on behalf of the government" for bureaucratic delays of pledged assistance to workers and small businesses adding that new measures are in the pipeline and will be "stronger, faster, more direct."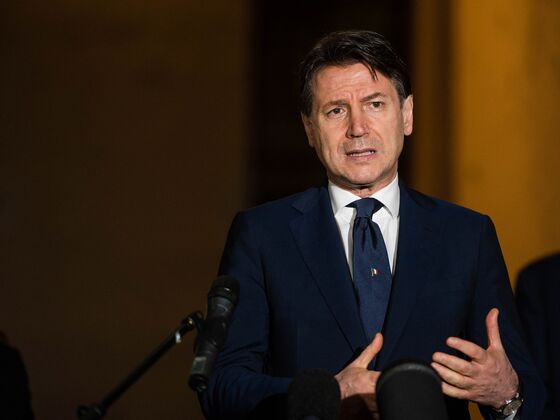 The beleaguered leader tried to fend off criticism that he's dragging his feet and keeping everything from big industry to small shops shut for longer than necessary. The attacks are mounting daily -- not only by the euroskeptic opposition, but even some in his ruling coalition over his management of a pandemic that has cost the country over 27,000 lives.
His equivocation was duly noted when Fitch made a surprise cut of Italy's credit rating to a step above junk, and one that raises the specter of political instability at a time when the economy has collapsed. Conte this week announced the country will start to gradually ease its two-month lockdown from May 4.
The new rules, many the result of hard-fought negotiations with factions in the coalition, call for construction and manufacturing to resume next week while retailers and museums will reopen on May 18 and bars and restaurants in June. Schools will remain shut until September.
"We are moving toward the reopening of economic activities through a chaotic succession of uncertain and contradictory measures," said Carlo Bonomi, the designated new president of manufacturing lobby Confindustria. He expressed concern about how to trace the ill and their contacts, how to manage public transport and how to help workers forced to stay home to care for children.
Giorgia Meloni, leader of the Brothers of Italy opposition party, urged new elections as soon as possible in an interview in Corriere della Sera. She attacked Conte for "suspending democracy" because most of the decisions are taken by decree instead of seeking votes in parliament.
Nor was Conte spared by his allies, with former premier Matteo Renzi threatening to leave the ruling coalition if the government isn't more specific about reopening guidelines and economic measures to help those in need. Renzi has also criticized the government for not consulting parliament enough.
Conte on Thursday acknowledged that his government's decisions have fueled debate but warned that a full reopening would significantly boost the number of new cases and that the country can't return to normality for the time being.