Fatter East European Wallets Drive the Catch-Up With Richer West
(Bloomberg) -- Go inside the global economy with Stephanie Flanders in her new podcast, Stephanomics. Subscribe via Pocket Cast or iTunes.
Consumers emboldened by rising wages and government spending helped propel the European Union's ex-communist economies to unexpectedly strong growth at the start of the year.
The bloc's eastern wing showed resilience to global trade tensions and manufacturing weakness in Germany, the key market for its exports. Preliminary data Wednesday showed gross domestic product rose by at least twice the pace of the euro zone on an annual basis.
| | | | |
| --- | --- | --- | --- |
| | 4Q 2018 GDP (change y/y) | 1Q 2019 | Survey |
| Czech Republic | 2.6% | 2.5% | 2.4% |
| Hungary | 5.1% | 5.3% | 4.9% |
| Romania  | 4.1% | 5% | 4.1% |
| Slovakia  | 3.6% | 3.7% | 3.6% |
| Poland | 4.9% | 4.6% | 4.4% |
| Bulgaria | 3.2% | 3.4% | 3.2% |
Domestic demand has replaced exports as the main driver of eastern Europe's convergence with richer western nations. Low unemployment is fueling salary increases and governments are splashing out on everything from pensions to infrastructure.
"Economies in Central and Eastern Europe are benefiting from fiscal stimulus ahead of elections," said Ciprian Dascalu, a Bucharest-based economist at ING Groep NV.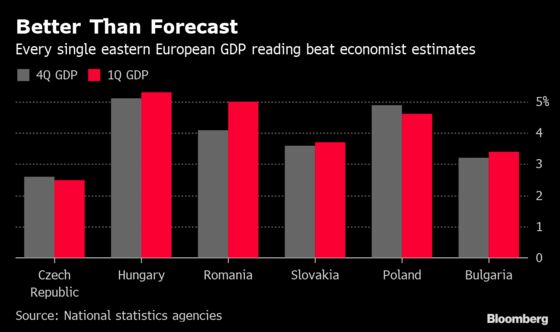 With Germany's economy now emerging from stagnation and borrowing costs remaining at or near historic lows, confidence remains high in central and eastern Europe despite private consumption rekindling inflation in some countries.
Poland extended an unprecedented pause in record-low interest rates on Wednesday, and policy makers in Bucharest also kept their benchmark unchanged.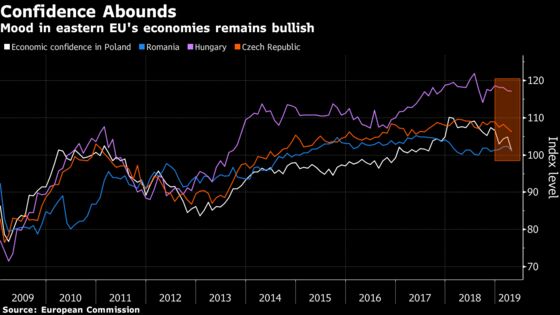 Poland has announced about $11 billion of election-year stimulus, boosting family benefits and trimming some taxes before European Parliament elections. The Czech government, one of the EU's top fiscal performers in recent years, is expected to post a wider budget gap in 2019.
"The EU's east still shows unprecedented tightening in the labor market, which boosts household consumption," said Marek Drimal, a London-based strategist at Societe Generale SA. "Also contributing is strong investment activity, driven by both private and public -- and EU -- sources."
OTP Bank Nyrt., which operates in more than 10 nations in the region, gave an upbeat outlook for its Hungarian home market and the other countries where it's been buying up lenders.
"Hungarian economic growth is expected to stand out among the countries our group operates in, though the others won't be bad either," Deputy Chief Executive Officer Laszlo Bencsik said last week.