Congress Gridlocked Amid Aid Pleas From Businesses, Governors
Congress is under increasing pressure to provide a fresh infusion of aid to a faltering economy, but prospects for Republicans and Democrats to reach a quick deal were clouded by big differences and no signs of active negotiations.
The U.S. Chamber of Commerce asked Congress for "urgent action" to replenish a $349 billion small-business relief program, which may run out within days. The nation's governors, meanwhile, are demanding Congress provide half a trillion dollars in economic aid to plug revenue gaps.
Lawmakers are still scattered across the country, so getting something done this week would likely require unanimous consent in Congress -- a tall order in any event and harder still with party leaders themselves nowhere near agreement.
House Democrats announced Monday the chamber is not expected to return to Washington before May 4, rather than April 20 as previously scheduled, although members could be called back early if votes are needed on legislation related to the coronavirus.
President Donald Trump and Senate Majority Leader Mitch McConnell want to give the Small Business Administration's Paycheck Protection Program a $250 billion infusion and leave other issues for another stimulus package to be negotiated later.
Democratic leaders Monday reiterated their demands for changes to the small business loan program and aid for state and local governments as well as for hospitals in whatever Congress does next.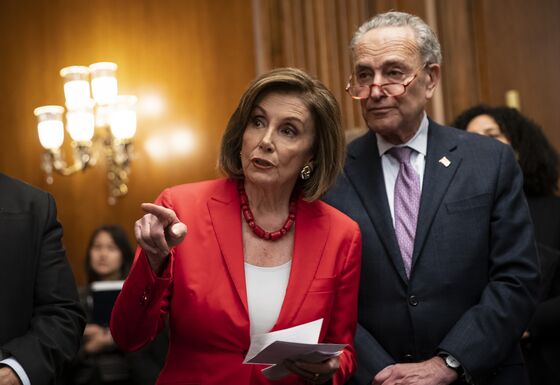 "Small businesses, hospitals, frontline workers and state and local governments across the country are struggling to keep up with this national crisis," Speaker Nancy Pelosi and Senate Minority Leader Chuck Schumer wrote in a joint statement. "They need more help from the federal government and they need it fast."
Treasury Secretary Steven Mnuchin indicated Monday that the administration was sticking to focusing on the small business aid.

He said at a White House briefing that there is an immediate need to add funding to the Paycheck Protection Program and if more needs to be done to support other areas of the economy the administration will work with Congress to accomplish that later, with a so-called phase four stimulus package.

That could include money for infrastructure projects to put people to work, aid to hospitals and incentives for Americans that will bolster restaurants and other businesses, Mnuchin said.
The economy faces fierce headwinds that have leaders in both parties proposing massive additional spending. Some 17 million Americans have lost their jobs in the past month. By Monday evening, there had been more than 959,000 applications for the small business aid approved totaling over $232 billion, about two-thirds of the money available, according to the SBA.
"No family and no business should be bankrupted by the temporary economic disruption caused by the coronavirus pandemic," Chamber of Commerce President Suzanne P. Clark wrote in a letter to congressional leaders.
The shutdowns of businesses and the millions thrown out of work also are plunging state budgets into turmoil as revenue falls and expenses escalate. Governors want half a trillion dollars in economic aid, far more than even the Democrats have suggested so far.
"The Covid-19 response is resulting in catastrophic damage to state economies, and fiscal assistance is critical now so that we can continue leading this fight," National Governors Association Chairman Larry Hogan, a Maryland Republican, said in a statement Monday. "Without sufficient federal relief, states will have to confront the prospect of significant reductions to essential services."
Hogan said he spoke with Vice President Mike Pence in hopes of breaking the logjam.
The Senate had a brief pro-forma session Monday that was quickly adjourned without action, with the next such opportunity scheduled for Thursday.
Mnuchin, who brokered the $2.2 trillion rescue package that passed in late March, talked with Schumer and Pelosi, though there was no sign of a breakthrough.
Democrats want changes to the Paycheck Protection Program to focus more of the money on smaller banks and smaller businesses. They also want to allocate an additional $250 billion in aid to states and hospitals.
Republicans painted Democrats as obstructionists, saying their demands are blocking McConnell's proposal for a quick addition of $250 billion to the PPP program.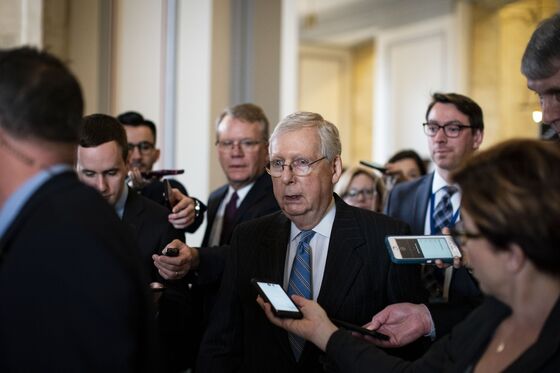 GOP Representative Devin Nunes of California said Saturday on Fox News that Democrats want it loaded up "with a lot more junk."
Senate Finance Chairman Chuck Grassley of Iowa said Saturday the small-business money would be depleted by Friday.
The political risks of delay will ramp up once the money is gone, given that millions of businesses -- particularly smaller ones -- risk getting left out as banks prioritize their best customers. Many small businesses are on the brink, or worse.
Given that dynamic, an eventual deal appears all but certain. But to do it this week, lawmakers will have to find a way to bridge the partisan split so that legislation can be approved by unanimous consent.
Even if the leaders agree, any one senator or House member can force days of delays or even roll call votes, which as of now must be conducted in person despite the risk of spreading infection. Objections are all but certain unless both parties can get at least some of what they want.
So far, the machinations are a near replay of what happened a few weeks ago, when McConnell held multiple votes on the Republican stimulus proposal while negotiations between Schumer, Mnuchin and top White House legislative liaison Eric Ueland continued in private.
Those talks, which included input from Pelosi, ultimately added hundreds of billions of dollars to what was then the third rescue package, swelling it to about $2.2 trillion and yielding an historic 96-0 Senate vote.
A wish list of ideas from Pelosi and her progressive wing helped give McConnell a political foil to keep his troops in line, while oversight provisions and the extra spending on assorted Democratic priorities -- including a vastly expanded unemployment insurance program and $150 billion for states -- appeased liberals.
One key difference is that last time, senators were in town and McConnell had convened bipartisan task forces that had hammered out much of the bones of the legislation over multiple days, with buy-in from key senators.
There was no such bipartisan give-and-take last week. And getting a complicated, multi-part package like the one Democrats are demanding will be challenging with most lawmakers out of town and talking to each other via conference calls.
In addition to this interim infusion, both sides have been talking about a larger follow-on package. But exactly what that will entail remains up for debate.