Congress May Fall Back on Narrow Border Separations Plan
(Bloomberg) -- Congress may act on a narrow bill to bolster President Donald Trump's executive order on halting family separations at the southern U.S. border if a more comprehensive immigration fails in the House this week.
House Republicans on Friday delayed a vote a vote on their intra-party compromise bill because it lacked the votes to pass, after a separate measure was defeated.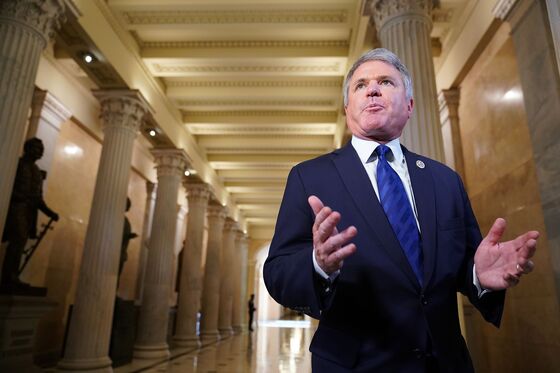 While lawmakers tweak the bill in an attempt to gain more votes, there's increasing recognition that a narrowly-focused bill will be needed to clear up confusion at the U.S.-Mexico border caused by Trump's policy of separating migrant families, and his subsequent reversal with an executive order.
House Homeland Security Chairman Michael McCaul of Texas said on "Fox News Sunday" that Congress should "at a minimum" deal with the family separation at the border if a compromise immigration bill he co-authored fails. That should include allowing migrants from Central America to be deported more easily, he said.
A House Republican aide said the narrow bill is being discussed but that no decisions have been made on it and there's no agreed-upon plan yet.
"To set forth a policy and then to reverse it is not a consistent message, to be honest with you," McCaul said of the Trump administration. He said he's still optimistic his bill -- which provides a pathway to citizenship for young undocumented immigrants, funds Trump's U.S.-Mexico border wall, and curtails legal immigration -- can pass.
McCaul said the White House assured him this weekend that Trump remains "100 percent" behind efforts to pass an immigration bill.
On the Senate side, Foreign Relations Chairman Bob Corker said he hopes that Democrat Dianne Feinstein and Republican Ted Cruz can hammer out a compromise bill on family separations in the coming days.
"I'm glad the administration took the steps they took. That's led to another crisis because of the 20 day rule," Corker said on CBS's "Face the Nation." He said it's now up Congress to come up with a longer term solution.
A larger immigration bill is unlikely before the midterm elections in November, Corker said.
Trump's executive order, signed on June 20, will likely be struck down by the courts, which ruled in 2015 under President Barack Obama that detaining kids is inhumane, even when they're with their parents, said Tom Bossert, the president's former homeland security adviser.
"My guess, that stroke of a pen does not survive three weeks," Bossert said on ABC's "This Week."
Republican Senator Jeff Flake of Arizona also said on ABC that he expects that Trump's order to be struck down. "Congress has to fix this" with another solution such as monitored release, he said.
In the event McCaul's proposal doesn't pass, a narrow bill by House Freedom Caucus Chairman Mark Meadows would expressly allow detention of families for more than 20 days, while putting new restrictions on the ability to seek asylum in the U.S. and giving new powers to the Department of Homeland Security to detain immigrant gang members.
Flake, a regular critic of Trump, said the president's ongoing rhetoric blaming Democrats for inaction on immigration and for promoting crime has made it difficult for the two parties to work together on a solution.
"Words matter, what the president says matters, and he ought to knock that off," Flake said.