Johnson Wins Vote on Deal, Urges MPs to Move On: Brexit Update
Boris Johnson's Brexit deal sped past its first hurdle in Parliament on Friday, putting the U.K. on course to leave the European Union next month. MPs voted by 358 to 234 for it to proceed to its next stage.
Opening the Commons debate on his deal, the prime minister declared his legislation offers "no possibility" of any further delay, with the transition period due to end on Dec. 31, 2020. That sets the clock ticking on U.K.-EU trade talks, which are likely to dominate British politics next year.
MPs vote by 358 to 234 to pass the second reading of the Withdrawal Agreement Bill
Commons now voting on the timetable for the Bill passing through its remaining stages
Johnson says Brexit Bill offers "no possibility" to extend transition period past Dec. 31, 2020
Brexit bill then enters committee stage, with passage through Parliament expected to be completed in January
Andrew Bailey appointed to succeed Mark Carney as Bank of England governor
Parliament enters Christmas recess at end of Friday business
Timetable to Pass Brexit Bill Approved (2:55 p.m.)
The program motion, which outlines the timetable for remaining stages of the bill, passed the Commons by 353 votes to 243.
This was the hurdle which halted Johnson in October, as he tried to ram his deal through Parliament at breakneck speed. This time round, with a newly-elected majority, he had no such trouble.
The motion passing means the remaining stages of Johnson's Brexit bill will be debated over three days once MPs return from the Christmas recess on Jan. 7.
Brexit Deal Passes First Hurdle (2:35 p.m.)
The House of Commons voted 358 to 234 in favor of the second reading of government's EU Withdrawal Agreement Bill, setting the U.K. on course to leave the EU on Jan. 31.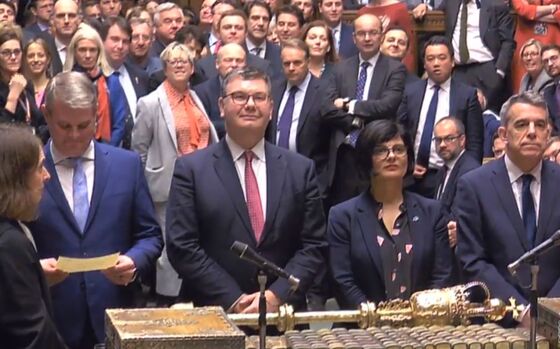 Barclay: "Time to End the Delay" (2:15 p.m.)
Brexit Secretary Steve Barclay closed Friday's debate, arguing lawmakers should pass the bill in the name of democracy.
"We now have a deal that reflects the single largest democratic exercise in British history in the referendum, and the defining issue of the general election," he said. "It is the time to end the delay, to come together and heal our divisions, and above all to listen to the people we serve."
Barclay also said his government's deal would "unlock confidence" for businesses, and by extension boost the U.K. economy.
After his speech, MPs left the chamber to vote on the bill. A result is expected at about 2:30 p.m.
Starmer Warns Over Detail (2 p.m.)
Labour Brexit spokesman Keir Starmer said while the U.K. will be leaving the European Union as a result of last week's election result, the latest manifestation of Johnson's Brexit bill was worse than the one he put before Parliament in October.
Starmer warned Conservative lawmakers to "be careful" in scrutinizing the Brexit process and not blindly follow their government. "Doing things because the government has a majority doesn't mean those things are right," he said, before referencing the "moral disgrace" of Johnson removing a commitment to support unaccompanied child refugees from his proposed legislation (see 9:55 a.m.).
The section of the bill forbidding ministers from extending the transition period beyond the end of 2020 is "reckless and ridiculous," he said. It puts the U.K. at risk of "a bare bones deal or no deal at all," he told lawmakers.
"As a result of the general election, as a result of the majority the government's got and the mandate the government has got, we are leaving the EU," Starmer said in Parliament. "Whatever side we were on, or no side at all, the leave-remain argument goes with it."
DUP Warns Over Impact on N Ireland (11 a.m.)
Jeffrey Donaldson, Westminster leader of Northern Ireland's Brexit-backing Democratic Unionist Party, said the government's deal threatens to undermine Northern Ireland's economy and peace process.
He questioned Johnson's claim there will be unfettered access for traders between Northern Ireland and the rest of the U.K., and said a new Joint Committee for the region would effectively give the EU a veto over arrangements for Northern Ireland.
He also criticized the prime minister's claim that the Northern Ireland Assembly, which hasn't sat since 2017, would have a veto over the process.
"Economic prosperity goes hand in hand with political stability in Northern Ireland. The peace process can't be just about the politics of Northern Ireland, it has to be about prosperity of Northern Ireland as well," he said. "Northern Ireland is part of the United Kingdom and I want the prime minister to treat my part in the same way as the other parts in terms of leaving the European Union."
Benn: Deal an Economic "Gamble" (10:45 a.m.)
Labour MP Hilary Benn, who chairs Parliament's Brexit Select Committee, slammed the government for failing to provide economic assessments of different Brexit scenarios to allow politicians to make informed decisions.
"It is extraordinary we still do not have an economic assessment of the single most important decision we're going to take -- the nature of that future relationship -- which has been presented before the house. Nothing, silence," Benn said. "It's a gamble on our nation's economy."
Benn added that if Johnson insists on no alignment with EU rules (see 10:20 a.m.), it will make trade negotiations "not more simple, but much much more complicated."
Euroskeptic Tory Calls for Clean Break (10:20 a.m.)
Former Conservative Trade Secretary Liam Fox urged Boris Johnson to ensure the U.K. is fully independent from EU regulations after Brexit, in a sign the prime minister cannot assume he'll have full Tory support if the quick trade deal he wants with the EU leaves Britain too closely aligned to the bloc.
"There are those in the forthcoming negotiations who will say that for access to the single market, Britain must accept dynamic realignment. In other words, we must change our rules with the EU," Fox told the House of Commons. "Can I say to the prime minister, he will have 100% support from the Conservative Party by ruling out any concept of dynamic alignment which would leave Britain in a worse place in terms of taking back control."
Johnson has a healthy majority of Conservative MPs after last week's election, and his Withdrawal Agreement Bill should pass comfortably. But he may need to be more careful when it comes to negotiating a future relationship with the EU before the end of 2020 -- close alignment will facilitate a quick deal, but could alienate MPs on his own side of the House.
Corbyn: Bill 'Hard-Wires' No-Deal Brexit Risk (10 a.m.)
Labour leader Jeremy Corbyn criticized Boris Johnson's withdrawal bill for failing to remove the risk of a no-deal Brexit at the end of 2020. Johnson's new bill contains a clause intended to ensure the U.K. will not be able to ask for an extension to the transition period, due to end on Dec. 31 2020, during which Johnson says he will negotiate a trade deal with the EU.
"We warned before the general election the Prime Minister's Brexit deal was a terrible deal for our country, and we still believe it's a terrible deal today," Corbyn said. "This deal does not bring certainty for communities or for business or the workforce. In fact, it does the opposite, and hard-wires the risk of a no-deal Brexit next year."
Johnson Scrutinized on Child Refugees (9:55 a.m.)
Labour MP Lisa Nandy -- who supported Johnson's deal in principle in October -- criticized the new withdrawal bill for appearing to abandon a commitment to protect child refugees after Brexit. The so-called Dubs clause -- named after Labour peer Alf Dubs -- required the U.K. to seek an arrangement with the EU so an unaccompanied child refugee in the EU would be allowed to join a relative in the U.K., and vice versa. Johnson's new Brexit bill removes the obligation to negotiate such a settlement.
While acknowledging Johnson has "won a mandate to get Brexit done," Nandy said he had not earned the right to "shoehorn into this legislation measures that are a direct attack on the most vulnerable children" in the world. "If he thinks people in towns like mine, who believe that we [should] deliver Brexit, want to see us turn our backs on decency and tolerance and kindness and warmth and empathy, he is wrong," she said.
Johnson said the U.K. will continue to receive unaccompanied refugee children but the bill is the wrong place to make the commitment.
Johnson Urges Country to Move On (9:40 a.m.)
Boris Johnson urged the U.K. to move on and put away the labels of "Leaver" and "Remainer" and build a united future after Brexit as he opened a debate on his exit deal with the European Union.
He claimed Brexit will be "done" on Jan. 31 -- in spite of the need for trade talks with the bloc -- and said there will be no extension of the transition period beyond December 2020.
"Now's the moment, as we leave the European Union, to reunite our country and allow the warmth and natural affection that we all share for our European neighbors to find renewed expression in one great new national project," Johnson told lawmakers. "This bill and this juncture in our national story must not be seen as a victory for one party over another or one faction over another. This is the time we move and discard the old labels of leave and remain."
EU Parliament Sees Jan. 29 Ratification Date (9 a.m.)
European Parliament vice president Pedro Silva Pereira expects the Brexit deal ratification process to be concluded by Jan. 29, with the U.K. due to leave the European Union two days later.
"We've always respected the choice of the British people, but it is true that it was a very long process," he told BBC Radio. He warned that there's a "very short time-frame available" to conclude a trade deal by the end of 2020.
"Eleven months to negotiate such a complex trade agreement is unprecedented," he said. "The key issue will be what kind of regulatory disalignment we will have."
Barclay Heralds 'Historic Day' in Parliament (Earlier)
Brexit Secretary Steve Barclay said the Conservative Party's resounding general election victory proves voters want the government to get on with Brexit and "start the healing process."
Friday's "historic" session in the House of Commons "is an opportunity after three years of dither, of delay, of divisiveness, to actually deliver and step forward and move this legislation to leave by 31 January, and be able to then start bringing the country back together," Barclay told the BBC.
The government has said Barclay's Brexit Department will be dissolved on Jan. 31 once the U.K.'s split from the European Union has happened, but before the start of formal trade talks with the bloc.